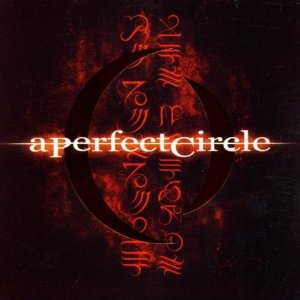 Orestes – A Perfect Circle
I'm not going to lie – I had a bit of a Tool fascination when I was younger.  Late high school / early college…those are prime years for boys to get into Tool and I was no exception.  I still maintain that Aenima is a great album, and even their later stuff (which has grown ever more bloated and prog-rocky) still has a lot to offer.  In fact, I may yet still do a Tool-specific post.
But for today, the subject is actually their spin-off band: A Perfect Circle–with songs written by their sometimes guitarist and sung by Maynard James Keenan.  Their debut record Mer De Noms had some of the same feel as Tool, but featured shorter, more tightly constructed songs, and a more straightforward rock dynamic.
I can't say that it's aged tremendously well.  Some of the best 90s music is absolutely timeless, and that's not the case here.  You can almost hear the underlying screams of desperation: "it's 1999 and the decade is slipping away from us."  The alternative rock boom was already on the way out, as emo-kids and straightforward pop-angst were filtering in to replace the more deep (if not necessarily more genuine) tropes of post-Nirvana suicide-rock, and Mer De Noms was right there to mark the moment.
But that gives it a strange poignancy.  And never more than on this track.