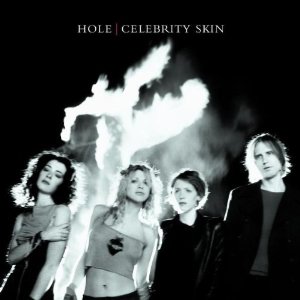 Awful – Hole
Hole was, of course, Courtney Love's band. They got a lot of snide comments about only being famous thanks to her marriage with Kurt Cobain. But for those who actually listened to their music, that case was pretty hard to make.
Their first batch of songs veered toward a sort of gritty, acoustic variant on grunge and punk. In fact, the famous Nirvana Unplugged show reminds me quite a bit of Hole's music, suggesting that Cobain may have picked up as much from her as she ever did from him.
Then, in 1998 they came out with Celebrity Skin, and a whole new round of condemnation began. It had a pop sheen that seemed to make it more of a kind with, say, Matchbox 20 than with Nirvana. But again, the haters were wrong. Sure, the sound had changed. But times had changed, too. Grunge had already faded into the past, and Hole took the opportunity to turn out one of the better guitar-pop records of the late-90's.
This song in particular seems to be a comment on the shift. It's both self-critical (ironically describing the commercialization that turns punk rock into radio-friendly pop) and stridently committed to the principle that in spite of those problems, there's something magical and transformative about such music. She's totally honest about the brighter, shinier future and the horrors lurking underneath but takes a leap of faith regardless.