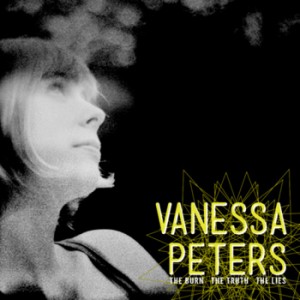 The Sting – Vanessa Peters
Copilot – Vanessa Peters
Vanessa Peters has been one of my favorite artists of the last few years, with two fantastic albums on the bounce (and a nice Christmas record last year). Her most recent album The Burn The Truth The Lies was just released and very much lives up to expectations.
It has a little bit less of the grandeur that some of her other work had displayed. But in its place is just a wonderful summer record, full of sun-dappled jangly guitars and choruses that are just begging to be hummed. Once you dig in a bit, you start to realize that it's actually a bit darker than you'd first sensed. But after a few more listens, the fundamental optimism takes back over and you start to hear the stories about loss and doubt as part of a broader narrative about the importance of connections.
It's the sort of record that would slot perfectly into a road trip, right in between an old Gram Parsons record and a new Aimee Mann one. Which is to say: it doesn't really sound like the music of 2012, but neither does it sound old or dated. There's a sort of timelessness to these sort of songs–I can imagine that I would have loved this record as a kid, but can just as easily picture myself sitting in a rocking chair listening to "No Decision," content at a life well-lived.
It's a record without any true standout songs; there are no single tracks that I find myself returning to much more than the others. For someone who is ever-more focused on single tracks–I live my musical life primarily through mixes–that sounds like a problem. But it's really not. As much as I like to vary my musical experience, there's something really wonderful about a record that really FEELS like a composite entity.
So while there is no one standout, there are plenty of highlights.
"The State I'm Living In" offers a sense of peaceful contentedness, hemmed in by a wonderful little acoustic rhythm and counterpointed with bit of slide guitar. "Grateful" is precisely what you'd expect from the title: a song that just makes you feel happy to be alive.
"The Sting" might be my favorite song on the record: quiet, beautiful, just a little bit ambiguous. It's like falling in love just a little more quickly than expected. The bit of tension there–the recognition that you're opening yourself up to real pain–is just part of what makes it special.
"A Good Judge" moves on at a deliberate pace–and there's no sense of surprise when it finally breaks out of the shell at about 2:30, just the necessary next step.
"Copilot" embodies more than any other song the sense I discussed above: of happiness, tinged with a bit of dread, but ultimately emerging into the sunlight. A little bit weary, but happy to be there.
And that's pretty much my takeaway from the whole record. It's a real joy to get to experience it.