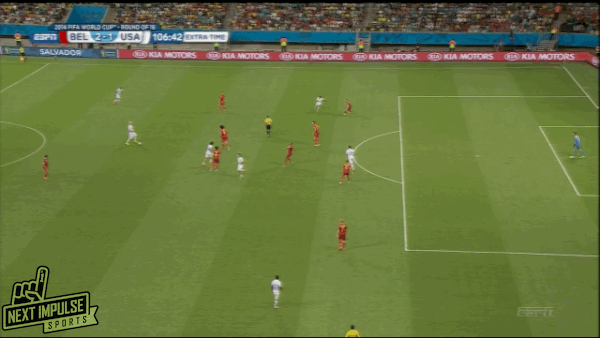 Belgium 2 – 1 United States (after extra time)
Talk of noble defeats is always bittersweet. I'd much rather win ugly than be going home. But this tournament has been all about noble defeats, and the US offered another stirring example. Strangely, the group winners won every game in the round of 16, despite basically every single game offering serious challenges to the supposed favorites. As a result, we got an amazing set of games, full of ever-increasing tension and late drama. And perhaps none were more full of intensity than the end to the US game.
Team USA was thoroughly battered for approximately 60 minutes in the middle of this game (roughly: the second half and the first half of extra time), and only really successfully expressed themselves in the final 15 frantic minutes. But those 15 minutes were some of the most intense and incredible minutes that US Soccer has ever put together. Good god it was awesome to watch. If that's what the brave new future is going to look like, I am pretty excited.
And even when they were clinging on desperately, there was some astonishing performances here. None more so than Tim Howard, who provided one of the best goalkeeping performances in World Cup history. The most saves ever in a World Cup game. And many of those saves were top-notch. These were not tame shots that just needed to be gathered; they were guys through on goal needing to be closed down. He saved shots with his feet. He anticipated and put himself in position to block of any angle of attack. And he played a huge role in organizing the defense in front of him. Just a ridiculous performance from him.
But beyond Howard, this was a really impressive defensive performance by the entire unit. They were aggressive, powerful, disruptive, and resolute. It was something to behold. Beasley was great, Besler was a beast (except for his one crucial and totally forgivable mishap getting pushed away by Lukaku to set up the goal), Gonzalez once again performed way above my expectations for him, Cameron struggled a bit trying to fill the holding role but grew into it as the game progressed. I still think that Beckerman would have really helped in this game, but there's no denying that having Cameron around as another tall man was nice, too. And Yedlin…oh what a revelation he has been. Forced into action due to Johnson's injury, he posed an immediate and enduring threat bombing down the right. His touch was the best of any US player; the control he exerted on any number of long balls was just amazing. And Green! I mocked his inclusion, saying it was purely an under the table arrangement to persuade him to choose the US as his national team. He wasn't ready, would never be put into a match. It was a wasted roster spot. But oh my god what a touch he had on the goal. And he looked absolutely full of life for the entire period he was on. He probably is not going to become the best player in the world, but for the very first time in US history we've got a player for whom that's not utterly absurd to imagine…
And Bradley. Man alive it was nice to have the real Michael Bradley back. His touch was still a bit heavy at times, and his free kicks were…well, not very good. But his vision was superb and his passing was really excellent. He was the main guy collecting the ball from the back and organizing possession going forward. His distribution in the attacking half was great. Like in the previous games, he was playing a lot of speculative balls. The difference is that this time they were far more perfectly weighted. His ball for Green's goal is the most obvious example, but there were dozens more in the same vein. AND he tracked back and made a ton of important defensive stops.
I don't want to go too overboard here. I mean: the US was clearly the worse team today and were played off the pitch in more than a few instances. They sat back too deeply and had a lot of trouble keeping possession. They failed to capitalize on several of their best chances, which you really have to do if you're going to win playing this way. Bedoya and Zusi worked hard but really didn't offer enough. Dempsey was much better once he moved back into the attacking midfield role, but didn't really have his best game. Several of those good chances that were spurned were from him. Not that he did terribly or anything; he just couldn't quite control his shots and let Courtois gather them up.
All of which is to say: we got beat today by the better team, and shouldn't feel satisfied. But given where I thought this team would end up in this tournament…I am really happy to have seen so much positive stuff. This might not be the best US team ever (I still think the 2002 group was probably better), but it was easily the most fun team to support. I loved watching them, and am really excited to see this new bunch
Argentina 1 – 0 Switzerland (after extra time)
Also an enthralling game. Quite similar to a bunch of others in the round of 16: the favorite struggled for long patches to break down the opposition, left themselves open to just enough attacks to make you think an upset really could be in order, but eventually found a way to win through a bit of magic. In this case, of course, the magic came from Messi, who weaved through the opposition into the Swiss box and then drew every single defender there toward him like a black hole. Then, with the space now open, he passed the ball to an onrushing Di Maria who finally got the goal he had been looking for the entire game.
Argentina – like every team left – has left us all asking some questions. While they controlled this game, they really had trouble generating high quality chances. They can get through the tournament if they keep playing this way, but it will take a lot of luck. But by far the most important thing they need is for the good version of Di Maria to turn up in the next three games.
A huge part of their strategy today revolved around Messi sucking up all the oxygen and disorganizing the defense as they struggled to contain him…and then letting Di Maria run rampant over the remaining elements. The problem is that Di Maria just couldn't make his passes stick today. He kept getting himself into dangerous spots and then mis-hitting his cross or mis-controlling the ball and allowing the attack to fizzle.
I'm not sure what the answer is for them, but if they can find a way to improve his play, they still have a very good shot of winning this thing.