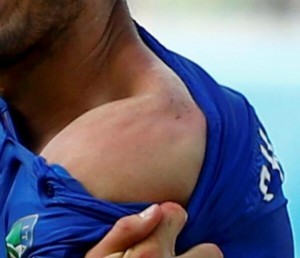 A miserable day of football, to be honest.  The quality of play was pretty low, two very unpleasant teams advance, and the palate-cleanser of Colombia is nowhere close to enough to overwhelm the horribleness that is Luis Suarez.
Italy 0 – 1 Uruguay
Costa Rica 0 – 0 England
I commented to someone around 55 minutes into Italy-Uruguay: "Any sort of injustice could happen in this game and it wouldn't really bother me. A phantom goal, a red for no reason, whatever. My only regret is that both teams can't lose in horrible ways." That's how bad it was. But I had forgotten who was playing, and that my normal scale of 'injustice' simply wasn't calibrated for the insanity that one Luis Suarez was ready to unleash.
It almost seemed like he had gotten ahold of his issues. I mean, he hadn't bitten anyone or used racist insults in over a year! But I think it's clear that there's something pathological here. In an elimination game, with roughly 10 minutes left, to bite your opponent…it's just insanity. Watching it live, it wasn't quite clear if he had actually bitten, or maybe if it was a little bit of a headbutt. But the replays after make it very clear—as do the teeth marks on Chiellini's shoulder—what happened. I have to imagine that was his last game in this tournament, and might well be his last game in the World Cup ever.  Then again, it's FIFA so who knows what they'll actually do.  But a 15 game ban seems like the bare minimum at this point.  Incredibly talented player, total lunatic on the field.
As for Italy, I mostly stick by my comment quoted above. They were truly dreadful today, and it's hard for me to muster all that much sympathy for them. They showed up for a draw and did their best to stifle the game, made the absolute most out of every challenge, and generally played in a fashion designed to frustrate both the opposition and the viewer. Balotelli was terrible and justifiably subbed at halftime. But Immobile wasn't any better. Even Pirlo seemed pretty off-kilter, taking a lot of wild shots and doing very little in the way of distribution.
As far as I can tell, the other game wasn't quite as bad but offered very little in the way of excitement either. It seemed like England had the better opportunities, but a 0-0 sounds about right. I saw one very good chance missed by Sturridge but not a whole lot else. Honestly, I feel bad for England who actually played reasonably well. Unlike Uruguay who was pretty much awful for all three games but is somehow going through.
Oh, and by far the best player for Uruguay today: Godin. Who should have missed this game for the red card he ought to have received in the last game. That one terrible decision basically determined this group. I hope that ref is ashamed of himself.
Japan 1 – 4 Colombia
Greece 1 – 1 Ivory Coast
Well, that was unexpected. At around the 80th minute, my predictions for both these games was spot-on. Colombia were beating Japan 2-1 though they had not been dominating. And Ivory Coast were drawing with Greece 1-1, in a fairly even game. Then, Colombia knocked in several more goals (including an absolute beauty from James Rodriguez) as Japan fell apart. And Greece won a penalty well into stoppage time, winning them the game and advancing them to the next round.
Once again, I only watched the first match with limited attention, but Japan seemed to be a lot better than in their first two games. It only really got away from them at the end as they were chasing the game, needing several goals to stay alive. And you don't want to have to chase against Colombia who attack with pace and power on the counter.
But I did watch the Ivory Coast-Greece game pretty closely. And while it has to have been truly heartbreaking for them to lose their chance to play in the knockout rounds, I can't really say it was an undeserved result. Greece were the better team on the day, hit the crossbar several times, and actually played quite well. And Ivory Coast just could never get their attack to click. They dominated large stretches of the game in the middle of the pitch, but ended up giving away possession cheaply or taking weak shots rather than picking out the open man.
So, I certainly feel bad, and very much lament that Greece, of all teams, has advanced (ugh). But it might just be the fairest possible result out of what turned out to be a pretty weak group.
And now, Costa Rica will play Greece in one of the least-anticipated, least-expected knockout games of recent memory. And the Dutch will be that much happier to have won their group and have that game looming on their horizon for the quarterfinals if they can dispatch Mexico.
Predictions for tomorrow:
Nigeria 1 – 2 Argentina

Bosnia and Herzegovina 1 – 1 Iran

Honduras 1 – 2 Switzerland

Ecuador 1 – 3 France
Can't say I'm all that excited about any of these games to be honest. Argentina and France are already through and will both very likely win their group. If Iran can win their game, that might generate a bit of tension in that group. But otherwise, Nigeria could lose and still go through. I can't say I'm very exited to watch Honduras again, but Switzerland will need to get a result against them if they want to advance, so I suppose that's the one the watch. France might make a mess of things against Ecuador but it doesn't seem particularly likely.