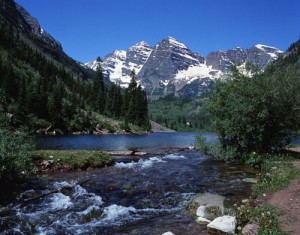 A musical celebration of the 50 states. One song each week over the course of the year.
Rocky Mountain High - John Denver
In the end, there was only ever one song that could win for Colorado.  John Denver may sound corny these days, and just a bit too earnest for the ironic ears of the 21st century, but the man could write a song. And this is one of his very finest. In it you can hear the joy of the natural world, the grandeur of the mountains, and the tranquility they offer.
Other strong contenders were some country classics from giants of the genre: Townes Van Zandt's "Colorado Girl" is everything that's great about him. And The Flying Burrito Brothers' "Colorado" is one of my favorites from them.