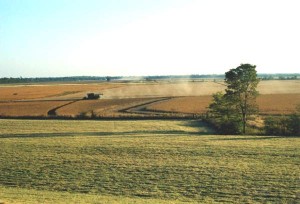 A musical celebration of the 50 states. One song each week over the course of the year.
Going Back To Arkansas - Big Bill Broonzy
One of the all-time greats from the early years of the blues, Big Bill Broonzy grew up in Arkansas, worked as a sharecropper and eventually went into the Army to go and fight in World War I. As the story goes: he returned home in 1919, dressed in his army uniform, only to be reminded forcefully of the depths of Jim Crow.  Rather than sticking around, he moved north to find a place for himself.
I recently finished reading The Warmth of Other Suns, Isabel Wilkerson's incredible study of the Great Migration, so I've been thinking a lot about experiences like these. About hard it must have been to simply pull up roots and abandon a place that has always been home. About how terrible the conditions must have been to inspire such mass exodus. About how the joys of your old home would still linger with you, simultaneous with your memories of the slights and the fear and the poverty.
I hear all of that here. It's a song about the joys of his old home. About collard greens and the hamhock boiling, chickens crowing, a world of family and close ties, so different from the impersonal loneliness of the big cities of the North. The bayous and the rolling hills. The rich soil and farms.   It's easy to understand why people left, why they had to leave. But it doesn't make the good parts any less real.
Honorable mentions: "Arkansas" by another excellent old bluesman, Henry Thomas. "Arkansas Lovin' Man" by Johnny Cash. And "The Lord God Bird" by Sufjan Stevens.