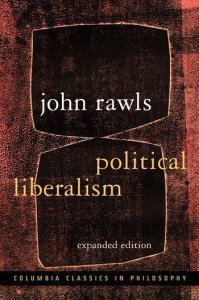 From Erica Grieder at TexasMonthly, comes this interesting tidbit on Ted Cruz, Republican presidential aspirant:
Cruz, then, is calling for what he calls "opportunity conservatism." What does that mean? "It means that conservatives should conceptualize and should articulate every domestic policy with a laser focus on easing the means of ascent," he said. "That we should talk about policy with a Rawlsian lens." … Rawls asks readers to imagine themselves behind "a veil of ignorance": If you didn't know what kind of situation you would be born into—your gender, your race, your family background, your physical health, and so on—what kind of political system would you consider most fair for everyone? That experiment, Rawls says, should point us to the broad principles of a just society. … It's also an experiment that implicitly acknowledges the fact that things like race and class are, in reality (as opposed to in thought experiments), often correlated with economic outcomes. And so Rawls, as you might expect, has more commonly been associated with the American left than the right. But that was, of course, one of Cruz's points. He said that when Democrats try to help people directly, as through an expanded safety net, they usually mean well, but "the problem is, it never, ever, ever works."
This seems absurd on its face. After all, Rawls is the grand philosopher of the welfare state, the benchmark of liberalism. But Cruz's reappropriation of Rawls is actually far less surprising than it might initially seem, and tells us genuinely interesting things about the importance of Rawls in the realm of political deliberation.
In short: Cruz is endorsing the Rawlsian imaginative move, while discarding the conclusions that Rawls derived from that move. The ease with which he's able to perform this maneuver demonstrates a terminal weakness in Rawls's overall project: to construct an enduring philosophical infrastructure capable of resolving the tensions within the value structures of liberal democracy.
The problem is embedded in the very idea of rationality. For Rawls, the veil of ignorance erases all conception of self. Not just race, class, or other identity markers, but also our concept of the good. It's not just that we don't know what we have; we don't even know what we value. All that we have left is our bare capacity for reason, which will guide us toward conclusions that could be supported by anyone.
The problem, of course, is that reason is necessarily situated. Reason is not conducted abstractly; it is necessarily embodied. And this goes beyond the simple fact that, as a simple matter of fact, we are incapable of ever truly forgetting our place in the world. More deeply, the very structure of reason itself depends on territorializing the knowable world. As Hans-Georg Gadamer tells us, our capacity for judgment emerges out of our prejudices. There is no reason without differentiation.
As a practical matter, the effect of this is clear. The Rawlsian imaginative technique (the hypothetical original position) is always already infiltrated by theories of the good, which masquerade as the pure operations of reason. This makes it almost infinitely portable. And makes it a simple thing for Cruz to assert the value of massive tax cuts for the wealthy, a collapse of the welfare state, racial targeting, and all the rest. These, he believes, are what any right-thinking person would endorse if only they could be set free from the whispering corruptions of the left.
All of which is to say: turning to Rawls for an ironclad defense of the progressive agenda is a dead-letter. But surely we have known this for decades. A Theory of Justice is one of the most influential and important books of the last century, philosophical or otherwise. And yet its release coincided almost perfectly with the dissipation of the very political structures it sought to buttress.
But this by no means is a call for simply forgetting Rawls. It's a call for rethinking the significance of his work.  As we forge into the 21st century, many turn to Rawls for philosophical refuge. They find comfort in the hermeneutic elaboration of his architecture. But to me, Rawls is far more interesting for his insights into the limits of that project.
His late-life 'political turn' is widely misunderstood as a defanging of Theory. But in my mind it reflects a growing awareness that 'justice as fairness' is far more important as a framework for channeling structures of thought than as a philosophical construct.
That Ted Cruz finds something of value in this work is, in a peculiar way, an important point in Rawls's favor. It demonstrates the capacity for enduring frames of reference, capable of organizing meaningful political disputation. If Ted Cruz (bomb thrower, destroyer of norms, assassin of institutional restraints) remains even somewhat in thrall of these conceptual framework, it suggests that there may still be hope for politics.
Rawls can't be used to defeat Cruz. Then again, no philosophical theory could. But the Rawlsian imaginative move nevertheless offers hope. It exposes a lingering theme of unity, a horizon that may yet be fused (again, borrowing from Gadamer), across which genuine political disagreement may still be engaged.