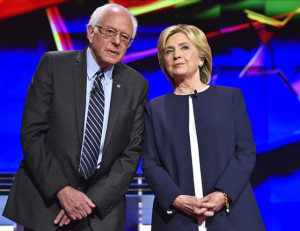 The Democratic primary is drawing to a close. While Bernie Sanders will (and should) remain in the campaign through the final contests, he's now acknowledged that his presence has more to do with setting agendas than with winning the nomination. So, as the gears start to shift a little bit, I think it's worth pausing to reflect on the campaign and what it might mean going forward.
And one thing that seems ineluctably true is that it's been fought almost exclusively on Sanders' terms. While no one would deny that there are differences between these candidates, the actual positions they've staked out in the campaign have been pretty similar. Sanders has regularly gone further, of course, but Clinton has gone out of her way to narrow the gap as much as possible.
It certainly didn't have to go that way.
When Sanders said 'single payer' she could have said 'the American people like their freedom, and they aren't interested in the government taking away the health care that they like.'
When Sanders said '$15 minimum wage' she could have said 'that's arrant nonsense, and would be a disaster in parts of the country where the median wage is barely $15 an hour.'
When Sanders said 'an end to fracking' she could have said 'there are a whole lot of jobs in fracking, and Senator Sanders is trying to take them away.'
When Sanders said 'end the death penalty' she could have stoked fears of terrorists and rapists, to evoke the our worst impulses.
I could go on pretty much endlessly here. On virtually every issue you can imagine, Clinton sought to minimize the gap between her and Sanders, emphasizing her agreement with the principles, focusing her disagreement exclusively on the details.
This is generally regarded as a sign of the left's strength, and understood as Sanders dragging Clinton to the left. His campaign, the argument goes, showed in vivid detail just how much passion there is on the left, and demonstrated that it's no longer possible to win a Democratic nomination by tacking to the center. In general, I'm mostly on board with this idea. There certainly are notable places where Sanders seemed to have boxed Clinton into making promises that really will guide her should she win the presidency.
But I also hesitate to draw that conclusion too forcefully. Because there's another reading of this situation, which is that Clinton never really took the threat of Sanders seriously. In this account, she saw him as essentially a factional candidate, and therefore adopted a deflection strategy, with the goal of simply coasting to victory and avoiding doing too much to antagonize the left.  Basically: play defense, take a few hits here and there, but roll with them and keep racking up delegates. No point in fighting Sanders directly when he doesn't really pose that big of a threat.
If this account is right, then the campaign didn't really make much difference. If Clinton didn't see herself as being in danger, she might not feel much obligation to keep that front occupied. Sure, she won't want to make people too angry, but she also won't see any obligation to govern to the left.
I want to be clear that I don't think this is an either/or situation. The truth likely lies somewhere in between. But I want to parse out a couple potential implications of this.
First, the 'Clinton was holding back' theory is part of why I remain doubtful about the argument that Elizabeth Warren would have won this race handily if she had entered it. Maybe she would have, but that counterfactual would likely involve a very different sort of race. Clinton kept a lot of her potential big guns holstered, and we just don't know what might have happened if she'd been forced to go on the offensive.
Second, I think this actually might tell us something about Clinton's political skill. It's a hallmark of successful political campaigns that they avoid overreactions. They identify the best strategy and then follow it with discipline, regardless of the flurries that erupt within a 24 hour news cycle. This is often regarded as a big part of the 2008 primary campaign; Clinton jumped around too much, while Obama played slow and steady. But this time around, it looks like Clinton remained incredibly disciplined. They presumably decided a year ago to run in this way, and it's remarkable how little they seem to have panicked, even as the media began to doubt her, even as Bernie started drawing incredible attention and excitement. Rather than giving into the pressure and punching back aggressively, she stayed disciplined and just let the pressure dissipate.
Third, this characterization will certainly speak to some of the Clinton doubters out there, who see the left-leaning aspects of her campaign as inauthentic, and who regard her as buying too much into the narrative of her own inevitability. And while I don't want to fully endorse that position, I do think it's worth acknowledging that possibility.
I anticipate that I'll experience some frustration over the next six months, as folks overreact to her inevitable tacking back to the center. But I'll also do my best to remember that the power of 'the democratic wing of the Democratic Party' is still somewhat unclear and at risk. So it will be important to play close attention to the way she tacks. Adopting more 'moderate' language is relatively harmless. But if she starts walking back explicit promises, that's a big red flag.
One thing we know for sure: Clinton is closely attuned to the shape of political power. So it's very much in the interests of the left to make clear that they are ready to be her allies, and to lend the significant energy and excitement that characterized the Sanders campaign, but only insofar as she is willing to be their allies, too.
On both sides, I hope people find their way back from the ledges of "Bernie or Bust" for the Sanders folks and "There Is No Alternative" for the Clinton supporters.  By which I mean: Sanders supporters should vote for Clinton, and work for Clinton, as the best remaining chance to achieve some of their objectives. But at the same time Clinton will do very well to remember that there's a lot of potential and possibility on the left, but she's going to have to work to keep it going.