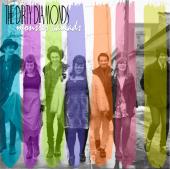 As always, this is a subjective project. I do think that everything on here is legitimately great, but I'm not going to pretend that my tastes correlate perfectly with some objective standard for the best. This is a list of the records I liked this year. Nothing more.  Hope you enjoy some of them as much as I do.
25. Laura Veirs – July Flame
I picture a dense forest, with flickers of the bright summer sun dripping down to the ground, but the overhang imposing a severe limit on what can make it through.  There's something very pleasant about it: the sense of summer and light that can only be grasped in patches, the feeling of a separate world that is dark and close–locked away by the height of the trees.
This record is an exercise in patience and restraint.  There aren't any flashy choruses or standout moments.  But there is a simple beauty. "Summer Is The Champion" pops and crackles and really brings to life the middle of the record, with otherwise would be at serious risk of losing its way. Another high note is "Wide-Eyed, Legless" which moves in delightfully obtuse angles and is tantalizingly short.  It's by far the strangest song on the record, but also manages to be one of the most immediately pleasurable at the same time.  In short, it's a reminder that when everything clicks, Veirs is one of the finer songwriters out there.
Highlights:Wide-Eyed, Legless, I Can See Your Tracks, Summer Is The Champion
24. Zoe Keating – Into the Trees
I somehow missed this record when it came out, so I literally only bought it a couple days ago.  That hasn't left me a lot of time to really sort out my opinion of it yet, but I know it's good.  Zoe Keating is a master on the cello, creating all kinds of weird sonic textures out of a very simple instrument.  Compared to her earlier work which tended to display a bit more of the slow, droning potential in the instrument, this record seems choppier, more focused on using the slow bends to tie together fragments of sound.  It doesn't seem to have any single track that sets my heart racing like "Sun Will Set" but I love the general atmosphere, particularly the extremely weird "Don't Worry" and the strident "Optimist," which is not an unthinking optimism, but expresses an intensity and desire to find the good, even in dark spaces.
Highlights: Optimist (live), The Path, Don't Worry
23. jj – nº 3
Unassuming, quiet, gently languid.  They dabble in electro-pop, but this is a record meant to provide a soundtrack to late autumn sunsets, not to dance parties.  It also evokes some Eno-inspired psychedelia, but only in a loose sense–it's gently relaxing more than it's explosively evocative. This is watercolors, not Jackson Pollack.  But in a good way!
In short, it's a dreamy piece of pop, which trails along with you, never really demanding your attention but rewarding you if you offer it.  I'd have a hard time humming any of it, but that's a feature not a bug.  This is a record that invites you to experience the moment as nothing more than the path toward the next moment.  There's no particular need for memory or ego.  You just drift…and everything seems right.
Highlights: And Now, Into the Light, Voi Parlate, lo Gioco, Let Go
22. S – I'm Not As Good At It As You
S is the solo project of Jenn Ghetto, ertswhile member of Carissa's Wierd. She's a bit more experimental under this moniker (including a dark electro-synth theme on her previous record), but this record would mostly slot well in with her work with the band. There are two main things on display: her voice (as ridden with pain as ever) and her guitar playing (which is at its most intricate this time around). The songwriting is probably some of the most straightforward that she's done. If you're not paying attention, these almost could sound like girl-with-guitar stuff you might hear at a coffeehouse. But lest you become complacent in that view, there is a dark burner like "Away Around This" to pull you up short. It drags just a little bit on the last few tracks, but on the whole it's a wonderful, dark, mysterious record.
Highlights: Save You, Not a Problem, Away Around This, We Are Not Friends
21. Antarctica Takes It! – Constellations
Their debut record absolutely blew my mind: as perfect a piece of twee-inspired chamber-pop as has ever been recorded, in my opinion. The lyrics were deft and insanely clever. The music was scratchy and lo-fi to the extreme  – recorded on a laptop microphone. But to me, that was what made it so divine. They draw on a wide range of instruments to make music that is exuberant and joyous.  McKeever's voice is a little bit reedy and he has the slightest lisp–and I wouldn't have it any other way.  That's part of what makes them sound so genuine.
This time around, things have been cleaned up (a little bit), and the themes are much less dark and weird. Instead of exploring failed Antarctic missions and macabre characters bearing their children's hearts in mason jars, the focus is on the idea of music itself – and its relationship to love. This can get just a tiny bit cloying, but when it's done well, it's done very well. For example, "C&F" is a triumphant success. It's a skittering song, rushing along breathlessly and begging you to try and keep up.  It's one of those tracks that has so many brilliant moments you can hardly believe that it's only three minutes long. It's like they've packed several years worth of pent-up ideas into one brilliant explosion. It's got a lot of that 60s era vim and vigor, with words that seem to stumble over themselves with how eager they are to get out into the bright spring sun. And, as always, the instruments bring the magic, with a great little bass beat, dancing piano, string, horns, and anything else you'd ever want. "Straight To Your Heart" continues merrily down this path, offering another piece of delightful twee-pop. Things cool down a bit on the more gentle "Try Try Try" which tells the story of unrequited love and the inability to communicate it–which sounds a bit cliched by is rescued by a radiant vocal performance by Maria Schoettler.  They never quite get back to heights of these three songs on the rest of the record, but there is still plenty to like over the course of the album.
And they're from Santa Cruz (or at least the Bay Area)!
Highlights: C&F, Try Try Try, Straight To Your Heart, Constellations
20. The Gaslight Anthem – American Slang
I absolutely adored The '59 Sound, and this record is pretty much an explicit follow-up. Trouble is, where the last record was raucous, this one is more tempered. Where the last record was lyrically complex, this one dabbles more in cliche. Where the last record channeled Springsteen to make something absolutely distinct and new, this one channels The Gaslight Anthem to make something good but vaguely derivative. Don't get me wrong. It's still a very fine record. These guys know how to write a damn fine rock song, and play with a punk energy. On the best songs–particularly the opening three tracks–you get the very best of 50s rock and roll, 70s Springsteen inspired storyscapes and dreams, and 80s punk all wrapped up into a three minute pop song. There's just a serious lull in the middle of the record, where some individual pieces of the whole are put on display and can't quite live up to the promise.
Highlights: Stay Lucky, The Spirit Of Jazz, American Slang, Bring It On
19. Bruce Springsteen – The Promise
Is this the missing album between Born to Run and Darkness as has been suggested? No, not really. If anything, it sounds to me more like the missing discs 3 and 4 of The River. Which is certainly a good thing, but not quite as impressive sounding as Darkness on the Edge of Town, mark 2. Put another way: there's a reason why these songs didn't make the cut. It's partly because they didn't 'fit' with the sound of the records of the period. But there's a lot that is simply not quite up to the quality levels of the stuff that did make it.
The result is an uneven record that is a bit hard to listen to from start to finish, but which offers quite a bit if you dip in and out. There is the fascination of hearing non-canon versions of "Racing in the Street" and "Factory" (titled "Come On Let's Go Tonight" on this record). Of course, these versions aren't as good as the real ones, but it's still fun to hear them. Similarly, you get a different version of "Rendezvous," which is good but doesn't exceed the version on Tracks by all that much. Or his versions of "Because the Night" and "Fire" – which compare well to the far more famous covers.
Of the completely new material, the best song is probably "Save My Love" which does a good job of living up to the promise of this record. It's clearly too joyous to have ever fit on Darkness, but it's too loose to have quite made sense on The River. It's just a great, short, energetic piece of rock and roll that thankfully is finally seeing the light. Songs like "Gotta Get That Feeling" and "Ain't Good Enough For You" are also good examples of what this record can offer. These are true 50s throwback tunes that never could have fit onto the studio records, but which are a joy to hear now.
Anyways, for a far better take on the meaning of The Promise you should check out Joe Posnanski.
Highlights: Save My Love, The Promise, The Way, Gotta Get That Feeling, Breakaway, The Way
18. Stars – The Five Ghosts
Oh, Stars, how you vex me. As I've stated many times, their song "Elevator Love Letter" is, to me, about as perfect a song as can be imagined. On a number of other tracks over the years they have shown that that one moment of brilliance was not a fluke. This time around, there's "Fixed" which is a gleaming piece of electro-pop bliss. Or there's the precise and dark etchings of "Winter Bones." Or "Changes" which feels like taking a breath of cool and pure winter air deep into your lungs. All of these feature the achingly beautiful voice of Amy Millan. With an instrument like that at their disposal, they should be able to move mountains. And yet, the one album that ties it all together and delivers from start to finish continues to elude. I believe strongly that this band has an all-time classic in them somewhere, but this is not it. The Five Ghosts is a good record, to be sure, but it only sparkles in measured doses.
Highlights: Fixed, Changes, Winter Bones, Dead Hearts
17. Brian McBride – Effective Disconnect
You may know Brian McBride from the ambient/drone band Stars of the Lid.  On this record, he lets a little bit more melody shine through, and the result is a beautiful and clear piece of music.  There is a hopefulness, a sense of wonder at confronting something thoroughly incomprehensible yet close enough to smell and breathe.  This music was composed to serve as the soundtrack to the documentary The Vanishing of the Bees, and that sense of vacancy, of a world gone slightly wrong for reasons we simply comprehend, serves as its emotional core.  This is a gorgeous record, not so much about revelation as about recognition. It comes to know you as much as you can know it.
Highlights: Mélodrames Télégraphiés (in B major 7th) Part 1, Girl Nap, Supposed Essay on the Piano (B major piano Adagietto)
16. Jonsi – Go
The solo record of Jonsi from Sigur Ros, which gives you a good sense of how things are going to turn out. He doesn't really do anything part way, nor is he at all interested in detached irony. If Sigur Ros is mostly focused on epic scores meant to produce a modern musical mythology, the solo work takes on a far smaller task.  Giving you no time to catch your bearings he leaps full speed ahead into a set of big, bright, beatific songs.  This time around, the focus is on the everyday. Rather than the gods and monsters, we get the intimacy of friends: laughing, tumbling together.  And that voice is as distinct as ever, evoking a sense of innocent passion and infinite generosity.
Highlights: Boy Lilikoi, Go Do, Around Us, Animal Arithmetic
15. The Sinister Turns – Big Plants for the Weekend
The sophomore effort from one of my favorite bands.  Their previous record was aggressively packed with energetic indie pop hooks, all vying for your attention.  Those hooks remain, but this time around they're given a lot more space to occupy.  The result is a much less compact sound for the record.  There are wide expanses of open terrain, punctuated by melodies that swoop in and out, or by drums that rattle off like machineguns and then fall silent.  The result is a more darker feel to the same sort of songs.  The playfulness remains, but it's far more restrained.
The song that sits most perfectly in between these two forms has to be "Brighter Sky and Darker Weather."  Not coincidentally, it's also my favorite track.  The drums here are insistent and forceful.  The guitars play a dual role: on the one hand they almost function as another layer of percussion, on the other hand adding some dark textures to the quieter moments of the verses.  In that sense, it reflects the more sinister turn (clever, no?) of the new record.  But once things really get going a couple minutes in, the straightforward power pop sentiments become far more clear.  And by the last minute you've got a blistering piece of rock goodness.
Highlights: Brighter Sky and Darker Weather, Calypso, Glass Eyes
14. The Radio Dept – Clinging to a Scheme
The word that comes to mind is atmosphere.  Doing their best to dispel the impression that Swedish bands are only capable of making bright indie pop, The Radio Dept has given us a wonderfully dense sonic landscape.  Like being lost in a snowstorm of guitar distortion and buried vocals.  The mixture is sparkling, well-paced, and immaculate. It strikes me as being an ambient rock record, if that even makes sense. The best songs, for me, are the most straightforwardly up-tempo. "The Video Dept" thumps along madly, while "Memory Loss" swirls around a single focal point, creating a maelstrom of sound. My favorite track is "You Stopped Making Sense" which in another world could have been a fairly straightforward pop song, but which is given significantly greater heft thanks to the ringing background hum. Still, this is not a record of individual standout tracks as much as it is a complete whole. Good as these slices are, the real magic is in the completed work, where the whole is much, much greater than the sum of the parts.
Highlights: You Stopped Making Sense, Memory Loss, The Video Dept, Domestic Scene, This Time Around
13. Defiance, Ohio – Midwestern Minutes
More or less what you'd expect from these anti-folk suburban punk kids, but in all the good ways. At 11 songs and under 30 minutes, the constant sensation is movement and energy. There certainly is not the time or space to linger with concepts. But on the whole, that's a positive. This is record of snapshots, of moving pictures that flicker like an old film reel.
It conveys a sense of faded pasts that are still being lived, caught in glimpses and sideways glances. You catch flashes of pain, of great joy, of kids growing up and realizing that the world is growing up faster than them. The songs rush past like cars on a freeway. You peer through the window and see lives being lived. But before you have time to truly wonder, they're gone and another one follows behind.
Musically, it's probably the tightest record they've released. The songs fit together and the arrangements are a bit more complex. The interplay between guitar and strings is surprisingly delicate. The harmonies swing quite a bit–no one would accuse them of being classically pure singers–but that is exactly as it should be. And the general DIY feel makes it all the nicer when they do belt out a gloriously pure chorus (see "Her Majesty's Midwestern Island" for example).
Highlights: Her Majesty's Midwestern Island, The White Shore, Dissimilarity Complex, The Reason, You Are Loved
12. Kate Nash – My Best Friend Is You
All over the place, full of big pop hooks, a confessional style that is both awkward and endearing, poignant, occasionally over-indulgent, but often charmingly brilliant. There are some great moments and more than a few places that pull you up short.  Which is part of the magic.
For example, you've got "I Just Love You More," which is a grungy bit of riot-girl sludge.  It's terrible and fascinating at the same time — and is set off perfectly by the fact that the next song "Do-Wah-Doo" is about as pure a piece of straightforward Phil-Spectored-girl-pop as you could want.  Or there's the atonal grinding of "I've Got a Secret," which builds up the reverb in order to provide stark relief to the bubblegum that resides elsewhere.
The clear highlight is "Don't You Want To Share The Guilt," which may be be her most interesting song yet.  It begins quietly, introspectively, and with a bit of distant pain in her voice.  But things are just about ready to run off the rails, as the deep sadness, pain, loss, and general sense of breakdown gets splayed out before you in a wonderfully mad stream-of-consciousness rant.  As it goes on and gets more and more frantic you feel just how claustrophobic it can get inside the head of someone who has no outlet.  It's brilliant and absolutely crammed with pathos.
In the end, this is a record with many flaws.  But that's part of what makes it so great.  It's a bit messy and incoherent, but in the end so is life.  And that's not a bad point to make.  Without the couple standout pop songs to keep things lively, this would be just a mess. But because she gives us the candy, it gives all the rest a bit more stability as well.
Highlights: Don't You Want To Share The Guilt, Early Christmas Present, Do-Wah-Doo, Later On, Take Me To A Higher Plane
11. The National – High Violet
Is it bad that I'm getting a little bit bored with The National? Not because the music itself is boring – it is a little bit drab, but in a good way – but because they just keep churning out very solid records. This is their third in a row to finish somewhere from #5 to #10 in my year end list. And while there are distinct ecosystems and flora and fauna on each, you could switch pretty much any song onto another record and not miss a beat. I appreciate that they do something, and do it well. I particularly love the slow burn of their records, the way the whole thing is fraught with tension that grows and recedes. But is it too much to ask them to put out an album full of songs like "Bloodbuzz Ohio" or "Mr. November" – songs that really set the stage on fire?
Some of the songs that other people seem to love on this record are among my lesser favorites (there are no bad songs here). "Conversation 16" and "Vanderlyle Crybaby Geeks" are part of a relatively weak finish. The real power of this record, for me, lies in the trifecta of "Bloodbuzz Ohio," "Lemonworld," and "Runaway." The first of those is probably their best song yet. Pure genius. And once again a testament to their power of the percussion for this band. The other two are much more demonstrations of Matt Berninger's surprising vocal talents. That deep baritone contains multitudes, doled out in small portions but worth every second.
Highlights: Bloodbuzz Ohio, Lemonworld, Runaway, Anyone's Ghost, Sorrow
10. Arcade Fire – The Suburbs
Perhaps the worst album they've released yet, but still very very good. The sophistication of their sound has grown, the songwriting remains good, and it is refreshing to hear a band able to meld irony and naivete without having it come off embarrassingly. The 'concept' part, that it's a record about the experience of the suburbs, is moderately enticing. They certainly give some depth to the idea, but it's not like there is any piercing wisdom here, or deep truths unveiled. You get basically what you'd expect. The suburbs come off as a conflicted space, but the two dominant themes that emerge are probably dissociation and boredom. That's good as far as it goes, but unfortunately is just not that conducive to the sort of rock-landscape that the band is best at producing. The logic of the project demands a unity in the structure that militates against precisely the explosive moments that would bust the constraints.
The one definite exception, however, is the majestic and wonderfully weird "Sprawl II (Mountains Beyond Mountains)." I've never been big on Regine's songs, but she totally steals the show this time around. I've heard this song compared to Blondie, which is totally on point, but doesn't even come close to conveying what's going on here. If my complaint about the rest of the album is a lack of magic, then this track delivers in full force. It's like listening to a dream–a world where there is something iconic and intensely powerful about the experience of suburban life. This is really the only time on the record they are able to make the simple accounting of life seem like something deserving the attention they've given it. The synths and relentless energy of her voice join together to make it seem like the deepest truths of the universe are being revealed when she exclaims "Sometimes I wonder if the world's so small, that we can never get away from the sprawl."
Highlights: Sprawl II (Mountains Beyond Mountains), Half Light II (No Celebration), Ready to Start, Modern Man
9. Janelle Monae – The ArchAndroid (Suites II and III)
There is genre-bending, and then there is Janelle Monae. She takes thing not just to another level, but to an entirely different planet. This album reaches far beyond the realm of possibility, and while it occasionally comes up a little bit empty, that can more than be forgiven. Audacity is the name of the game, and she has it in spades. Even setting aside the thematic element (it spans two suites that focus on Cyndi Mayweather, an android living in a post-apocalyptic world inspired by Metropolis, and trying to come to terms with what it means to be alive, to love, to feel passion), the sheer musical variety is astonishing. Listen to the insistent forcefulness that drives "Faster" through the stratosphere, which then melts into a psychotic dance-step, and eventually finds its way back, with that cascading piano line signaling the return of the original theme. Then compare that with "Tightrope," which is grounded in a gloriously funky soul rhythm, or "Come Alive" which is raucous, dirty noise (in the best way), or her restrained rapping on "Dance or Die," or the Sufjan-esque weirdness of "Wondaland." You've also got "Cold War" which is almost a straightforward indie rock song, but done absolutely perfectly. And on "Oh, Maker" she shifts back and forth between a slightly twisted folk singer and a soaring, showstopping diva without missing a beat. Elsewhere, there's cabaret, psychedelia, beats inspired by Michael Jackson, soaring vocals ripped out of a Broadway show tune, and a million other bits and pieces I can't name.
It's all a bit too much to handle, which is both a good and a bad thing. On the one hand, I think a simpler version that only contained the 2nd suite would have been a tight and incredibly impressive album. All of the great songs are on that half, and it shows off most of her talents. On the other hand, what fun would that be? That she piles on more and more is part of what makes this record what it is. So things start to drag a bit at the end, it's no problem. Because this is not a record that's meant to be grasped easily. It's absolutely worth the investment to start delving and see what will reveal itself.
Highlights: Faster, Cold War, Tightrope, Oh Maker
8. The Tallest Man on Earth –  The Wild Hunt
It's a total cliche to bring up Dylan, but my god if it isn't fair.  That same nasally twang, brilliantly evocative songwriting, creating musical panoramas on a grand, metaphysical scale despite the fact that it's basically just a single guy and a guitar.  Where Kristian Matsson departs from his forbear is in the guitar technique, which is absolutely masterful.  Check out the little movements on "King of Spain" or the delicately plucked notes on "Love is All."  Those tracks pack a massive punch in the middle of the record.  But it's earlier, on the exquisite "Burden of Tomorrow" when  it becomes clear that we're hearing a genius at work.  This record is a ragged jewel, and absolute proof that the most delicate of sounds can produce something of enduring strength. It's not the sort of strength that will bowl you over–it's the strength of the land, of its people, of shared dreams and myths, of love, and of memories etched so deeply that they last through the centuries.
Highlights: Burden of Tomorrow, Love is All, Thousand Ways, King of Spain
7. Mixtapes – Maps
Maybe the purest and most delightfully simple record of the year.  This is pop-punk as it was meant to be played: with enthusiasm, dueling boy-girl vocals that ricochet around like a kid on a sugar high, bass that stands right up at the front of the mix and isn't afraid to push you around a little bit, and some kick-ass choruses.  It sounds so simple, but so few bands can do it well.  Out of nowhere this has turned into one of my favorite records of the year.
And did I mention that it's only 18 minutes long?  They certainly don't mess around.  These songs come in quick, give you everything you want, and don't stick around to wear out their welcome. The one track that lasts more than 3 minutes ("Sunsets") is also a welcome change of pace to close out the record: in classic punk tradition, you have to close things out with a quiet and beautiful slice of piano and acoustic guitar to cool you down.
Highlights: Nothing Can Kill The Grimace, Maps, Road Apples, And If We Both Fail
6. Sambassadeur – European
On your first listen, the big and bright tracks will stand out.  While there's nothing that leaps out at you like their very best work, songs like "Stranded," "Days," and "I Can Try" open things up with a deadly combination of an effervescent movement, strings out of the 60s, and that lovely Swedish lilt.  The only real downside is a bleeding together of sound and approach.  As good as "I Can Try" sounds, it's hard to deny that it sounds a tad less sparkly when dropped in the midst of such similar fare.
That what makes "A Remote View" the absolute standout track.  It's short, fully instrumental, and may be the most pure song I've heard in years.  Gentle acoustic guitars plucked with care, and a sense of fragile possibility.  It's the sound of falling in love, of knowing that you have to say goodbye, of the sense that you just might not be strong enough. "A Remote View" sounds to me like the bookends on a 50 year relationship.  It's the time right before: the aching that comes from wanting to touch something more, but never being sure that it will be safe.  It's also the time after everything is over: when you look back and shed bittersweet tears.
The beauty of the song is that it's so different from the rest of the record.   Sambassadeuer songs are usually all about movement, but "A Remote View" is about moments captured in amber.  It's a perfect counterpoint – and it's what makes this a great, rather than just a very good, record.
Highlights: A Remote View, I Can Try, High and Low, Days
5. Wolf Parade – Expo 86
I found their sophomore record to be a bit of a snooze, but oh my have they returned to form on this one.  The clear highlight is "Yulia," my #1 track for the year, and an absolute masterpiece.  But there is a lot to like everywhere else on this record, too. For the first time Dan's songs are better than Spencer's.  That tends to give the whole album a slightly different flavor, I think.  That is to say: it's less weird and more straightforward in the big crunching guitar lines and massive drum kicks.  It still has a distinct Wolf Parade sound, to be sure but songs like "Palm Road" and "Pobody's Nerfect" are big, brash rock and roll songs first, and get that distinct Wolf Parade sheen as a secondary characteristic.  Krug's best song is definitely "Cave-o-Sapien" which has that madcap rushing feeling that has characterized his best work under the Sunset Rubdown name.  It's breathless, agile, and carries a serious wallop.
My only real complaint is that the songs are just too long!  Yulia is one of only two tracks under 4 minutes, and the majority are over 5.  They're all good, but they do tend to drag just a bit.
Highlights: Yulia, Pobody's Nerfect, Cave-o-Sapien, Little Golden Age
4. Tokyo Police Club – Champ
Nothing complicated here. Just a clever, insanely catchy bit of hook-laden indie pop. It's The Strokes without all the hipster baggage, or circa late-90s Jimmy Eat World without the emo-kid impulses. Think also There's Nothing Wrong With Love era Built to Spill. Each song is built around a big, infectious hook, usually with a chorus that blows things up and lets them reset things at another level. It's tightly-wound and angular pop, but they never commit the error of sucking out the oxygen. These songs are free to breathe and dance and sing.
Thematically, it's the sort of nostalgia-infused music that can only be written by people in their early 20s. The best kind of musical nostalgia, after all, is for times that have only barely passed you by. Dudes in the 40s thinking back to high school are sad schleps. Kids in their 20s reminiscing are still engaged in the process of self-discovery. And that's what this record is all about, though it's never taken seriously enough to get overly weighty. Just a lovely record that's only real fault is a bit of a dead spell in the second half, one that is thankfully redeemed by the gorgeous "Not Sick."
Highlights: Not Sick, Boots Of Danger (Wait Up), Favourite Food, Bambi, Breakneck Speed
3. Frightened Rabbit – The Winter Of Mixed Drinks
A major step down from the brilliant Midnight Organ Fight, but still good enough to be my #3 record for the year.  That's how good the previous record was, I guess. The guitar work is as good as ever. They can do the big jangly parade of fireworks and magic ("Living in Colour"), the bass-driven drunkard's walk home, full of introspection and false certainty ("The Wrestle"), the gentle edge of dissonance that bookends the slightly bedraggled but resilient core of a song ("Skip the Youth").  And then there's "Nothing Like You" which is surely they're most straightforward rock song, with an insistent bass line keeping the whole thing interesting.  The percussion is stellar as well.  Grant Hutchinson's drum beats always give me a sense that he remains perfectly stationary while the entire rest of the universe is knocked around – it's one of the defining characteristics of the band, and something that's on fine display in this go around.
Highlights: Living In Colour, Foot Shooter, Nothing Like You, The Wrestle, Swim Until You Can't See Land
2. Kanye West – My Beautiful Dark Twisted Fantasy
Every once in awhile you get something so hyped that it can't possibly live up to it…and yet it still does.  On this record, Kanye pulls off this feat.  As the saying goes: it ain't braggin' if it's true.  And this time around, it's absolutely true.  Audacious, intricate, intimate, dangerous, ridiculous, amazing.  Just about any superlative you can come up with will apply to this record–and not necessarily just the positive ones.  There are all kinds of mistakes, weird missteps, awkward phrases and bizarre musical turns.  He's terribly off-key in a number of places, his flow is good but nothing special, there are plenty of lines that fall flat.  And yet, somehow, none of this matters.
Listening to this makes me think a little bit about what it might have been like to hear Revolver or Sgt. Pepper in the mid-60s: the sense of 'these guys are just from another planet.'  Not that this album is as good as Revolver, of course, but it is transcendent in the same sort of way.  Kanye is simply playing an entirely different game than everyone else.  All the mistakes along the way are ultimately meaningless because he is willing (and able) to attempt things that no one else would ever try.  He's the maestro of a grand philharmonic orchestra and everyone else is conducting the 6th grade band.  Just a few examples.  First: the 3 minute coda on "Runaway" which eviscerates auto-tune, while also redeeming it.  His ridiculously distorted singing, channeled through the auto-tune produces something that's plaintive and powerful–intensely human in precisely the way that auto-tune was supposed to have made impossible.  Second: the Chris Rock bit that closes the beautiful and jagged "Blame Game."  In one sense it completely ruins the deep sense of despair that runs through the track, but that's what makes it so necessary.  This is a record that lays bare with exquisite detail the deepest parts of our souls, the parts that want to destroy the things that we love, that don't know how to accept good things.  The self-hatred that manifests itself in aggressive self-promotion, the desperation that makes us shrug off the pain. Third: the waves of energy in "All of the Lights." This is a song that no one else could have made. The intricacy of the construction absolutely blows away the competition. But at the same time, it's incredibly real and specific. Just listen to the verse about the public visitation at Borders. It's pitch-perfect in the attention to detail.
Part of the greatness of this record is the way he melds together the endless string of guest stars.  "Monster," for example, is brilliant, but especially because of the way the Kanye verse sets the stage for Jay-Z, who then is completely blown out of the water by a possessed Nicki Minaj.
And then there's "Runaway."  I already mentioned the coda, but even that pales in comparison to the first six minutes.  The song is most notable for the chorus ("Let's have a toast for the douchebags / let's have a toast for the assholes"), which is obviously self-referential.  But the way that it's self-referential deserves a bit more attention.  It's not an excuse, but neither is it celebratory.  It's a song about being unable to truly share intimacy, and pushing away those that we love so that we never really have to take the risk.  But it's not just about that.  There's also a deep sense of resignation.  He's saying that he's afraid to commit, but he's also saying that even if he could get over that problem, there's a deep truth to the fact that he kind of is, for lack of a better word, a douchebag.  It's a song about self-loathing, not just the inability to love someone else, but the way that stems from being unable to love himself.  There's an intense sadness, a plaintive honesty, and an inescapable fear.  At about three minutes in, he's saying "runaway from me baby" and the pain is towering.  He really means "stay" but he knows that he can't say it.  And if he did say it, it would end up twisted and terrible.  So he knows deep down that the very best thing anyone who cares about him could do would simply be to get away as fast as possible.  At least that way they won't get sucked into the vortex.  And it's all capped off by the final verse:
Never was much of a romantic
I could never take the intimacy
And I know it did damage
Cause the look in your eyes is killing me
I'm guessing you're at an advantage
Cause you could blame me for everything
And I don't know how I'ma manage
If one day you just up and leave
He's pushing her away, and playing off like it's no big deal.  But he knows somewhere deep inside that you only get so many chances at redemption.  And he's drowning, while doing everything to alienate the very people who might be able to help.  It's a shocking, beautiful, and incredibly sad song. 
I said a couple days ago in my songs-post that "Runaway" is a shockingly honest song, and continued: I don't meant that he's baring his soul and letting us see the 'real' Kanye. That doesn't interest me in the slightest. He's a tortured soul, a con, an egotistical maniac, or a genius. Or none of the above. Who cares? What matters here is the SONG. And as Tim O'Brien says: "it's the truth, even if it didn't happen." That's really the story of the whole record. It works all the more because of the way it feeds on the image of Kanye. Against that background, it gives us something transcendentally truthful, asking us to consider both what we (think we) know about him, and what that says about us, too.
Highlights: every track has something good to offer, but the best in my book are Runaway, All of the Lights, Monster, Dark Fantasy, Gorgeous, Hell of a Life, and Blame Game
1. Dirty Diamonds – Monster Ballads
My favorite record of the year is a 6-song EP 60s girl group/soul revival?  Apparently so.  Sometimes an album hits you so hard that you have to just go along with the flow, and this is that sort of record. It's everything I love about doo-wop combined with everything I love about electro dance pop, unifying the timelessness of the former with the energy of the latter.  Harmonies that soar and dip, insistent tambourine-driven beat, great pulsating bass lines, and a looseness that makes everything sound fresh beyond words.  It's light and so free that your heart almost wants to burst.
It's not complex.  It's not sophisticated.  It doesn't take on any difficult concepts or themes.  But it makes me ridiculously, ludicrously happy. And what more can you ask for?
Highlights: All six tracks, but especially Right Direction, Where Are The Words, and Hope You Had Phun!
Honorable mentions: Basia Bulat, Young Adults, The Album Leaf, Girl Talk, Sufjan Stevens, Walkmen, Big Boi