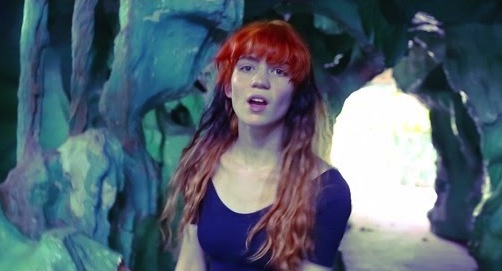 50 songs hardly seems enough for such a great year in music, but I've edited myself down a bit to try and offer only the cream of the crop. As always, only one song per artist (else a certain Canadian would occupy about nine spots on the list), and I make no claim that these are the 'best' songs by some objective standard. These are just the ones I loved the most.
Spotify list (mostly complete) available here.
50. Pedestrian At Best – Courtney Barnett
I'm not a big fan of speak-singing, but Courtney Barnett can pull it off. I am a fan of rock and roll, and Courtney Barnett can pull that off, too.
49. 6PM In New York – Drake (youtube link)
In some ways, 2015 was the year of Drake, and it all felt like a big nothingburger to me. But this song, for some reason, really struck a chord with me. It's full of these delightful little koans…all in the service of delivering what is basically a solid five minute long burn.
48. No No No – Beirut
The rest of the album was a bit lightweight, but this song would have slid very nicely onto The Rip Tide.
47. Don't Let It Trouble Your Mind – Rhiannon Giddens
I wrote up a comment on this song that read: "It's almost impossible to believe this isn't an Emmylou or Dolly cover." And then I checked and no joke, it is a Dolly cover. Conclusion: my powers of perception are excellent, but my familiarity with Dolly's catalog is wholly insufficient!
46. Nostalgic – Kelly Clarkson (youtube link)
I can't be the only one to notice that the best Kelly Clarkson song in a decade is called 'Nostalgic,' can I?
45. The Things I Regret – Brandi Carlile
In general, I miss the old, folkier Carlile of her first couple albums, but this song is pretty irresistible.
44. WTF – Missy Elliott (youtube link)
I kind of missed out on Missy Elliott back in the day, so I'm taking full advantage of her reappearance to acquaint myself with what I missed.
43. Bound for Rio Grande – Red River Dialect
They build a lovely acoustic drone, almost in the style of William Tyler, but then layer some fiddles on top, and you end up with an old sea shanty filtered through the lens of Nickel Creek.
42. South Dakota – James McMurtry
Thank god for James McMurtry for releasing this song before I got to South Dakota on my 50 songs for 50 states project. Spoiler alert: this one blows all the other SD songs away.
41. And Still They Move – Colin Stetson and Sarah Neufeld
The violin is a truly amazing instrument.
40. I Remember – Bully
108 seconds worth of memories, condensed into a little ball and then lit on fire.
39. All Meanness Be Gone – Tica Douglas
Another brilliant song from the always-brilliant Tica Douglas. Time passes, every rough edge sands away, and we pause to ask ourselves if it really meant anything at all.
38. You Satellite – Wilco
The story with each new Wilco album is almost always the same: I start underwhelmed, but force myself through a few listens until one song begins to rise out and earns my devotion. This time around it's 'You Satellite,' which was thoroughly unprepossessing at first listen, but the more I heard of it, the more I wanted to descend into the maelstrom.
37. Yes All Cops – Worriers
"They'll only give it up when we rip it from their cold dead hands."
36. Bad Art & Weirdo Ideas – Beach Slang
Reminds me a lot of Appleseed Cast circa 2001.
35. Wolfkids – Inventions
Is there a such a thing as the multi-dimensional pop song? Because if not, I think they might have just invented a new genre.
34. Nothing Where Something Used To Be – Vanessa Carlton
It's strange that sometimes it takes the wisdom of years to finally understand what it means to be young.
33. Return to the Moon – El Vy
Very spotty album; very good song. I could listen to Matt Berninger read the phonebook.
32. In The Water – Radical Dads
A little bit Sonic Youth (circa Daydream Nation), a little bit Built to Spill (circa There's Nothing Wrong With Love). Take the ingredients, mix 'em up in your garage, add a few spices, and enjoy.
31. Your Mistakes – All Dogs
Sad songs and pretty chords are selling this year.
30. Call You All The Time – Vanessa Peters
Jaunty and fun and beautifully sunny, the sort of 'breakup' song that we almost never hear: one that remembers fondly but accepts the necessity of moving on, which acknowledges the breakdowns and recriminations but which doesn't dwell on them.
29. Heartsigh – Purity Ring
I'm sure there are limits to the human capacity to build perfect pop confections out of bleeps and bloops, but we aren't there yet.
28. Everything You Love – Eskimeaux
Hard to pick a single track from an album full of great songs, but at the moment, this one is my favorite.
27. Cabinet Battle #1 – Hamilton
Slightly anachronistic in its treatment of slavery, but the burn is so good that I'll more than forgive it. Matt Yglesias at Vox had a pretty good explainer on the background here.
26. Allison – Helen
An homage to the impossible opacity of pop music.
25. American Flags in Black & White – John Moreland
If you like what the title of the song promises, you're going to like the song, too.
24. Together or Alone – Eternal Summers
That bit at 1:38. Oh hell yes.
23. Empty Threat – CHVRCHES
As always, it's basically impossible to pick one CHVRCHES song to stand above the rest. You could just as easily substitute Clearest Blue or Leave A Trace and lose almost nothing in the transition. They are the current masters of the verse/chorus transition.
22. Steamroller (demo) – Phoebe Bridgers
What can I say? I've always been a sucker for a girl with a guitar and a broken heart. A more polished take on this song that made it onto the b-side of her debut single 'Killer' (also a contender for this list), but this is my favorite version, precisely because it's so raw.
21. Sagres – The Tallest Man On Earth
Kristian Matsson has always seemed to invite Dylan comparisons, but this time around it's the Dylan of the 80s, dabbling in synths and big, bright production notes. But unlike Dylan himself, this song manages to incorporate those influences without any hiccups along the way. The result is gorgeous and heartfelt.
20. Sirens – Stranger Cat
Dreamy electro-pop which promises accompany you on your long slow descent into madness.
19. Chrissie Hynde – Butch Walker
"All I got right now / Is all I want / Chrissie Hynde, singing through a blown dash speaker / About Ohio" – God, what a line.
18. A New Wave – Sleater-Kinney
Sleater-Kinney is back and holy crap does it feel great.
17. West Coast – Fidlar
Reckless, drunken roadtrips to the edge of destruction have never sounded so fun.
16. Where the Night Goes – Josh Ritter
The finest tasting folk/rock vinaigrette that crossed my lips this year.
15. Beyond Love – Beach House
A great example of the way they can marry sepia tones and gauzy textures to produce something that feels both new and achingly old at the same time.
14. Lifted Up (1985) – Passion Pit
The album as a whole was a bit of a dud, but this song is everything.
13. Feel the Lightning – Dan Deacon
As far as I can tell, Dan Deacon is basically a walking dance party. I imagine him walking into a bank to set up his mortgage and everyone jumping around throwing glitter bombs while he's like 'hey, everyone, can we chill for a second? I need to discuss my interest rate.'
12. River Towns – Mark Knopfler
Knopfler paints like an old master, with quick brushstrokes that convey emotions with inch-perfect precision. He can do so much with the guitar that it's often easy to forget just how great his lyrics are. Here, on one of the quietest and simplest tracks he's laid down, we get a perfect reminder of those talents.
11. Waitress – Hop Along
That voice. Unbelievable.
10. Lampshades on Fire – Modest Mouse
This came out in late-2014, and I didn't think much of it at the time. Didn't even make my list for last year. But holy cow did I miss the boat on that one. Thankfully, the full album release got me listening more closely, and I'm sneaking it into the top 10 here.
9. Carolina – Royal Headache
The first, perfect bite into a crisp apple. The delightful crunch, the sweetness on your tongue. Everything that's great about summer and rock and roll.
8. Fairytale Tourist – The Corner Laughers
All strident pace and quintessential backbeat, surrounded by a perfectly realized harmonic jangle, and lyrics that cover the range from Hansel and Gretel to Cleopatra to snuggling up with your cats at night. And hey, why not some 'ba-ba-ba's to tie everything together?
7. Billions of Eyes – Lady Lamb
A rollicking, rousing, lurching burst of a song. Conversational and delightful beyond all reasonable expectations, it just keeps getting better and better as the story grows and the scope widens.
6. Dime Store Cowgirl – Kacey Musgraves
What was already a great chorus is elevated to inner-circle level with "I'm still the girl from Golden…" Maybe the best bridge of the year, too. It's almost unfair for one song to contain so many great pieces.
5. Always – Moving Panoramas
Gentle guitar lines that wash over you in waves. Warm melodies wrapped lightly around beautiful voices. Deceptively simple chord progressions that feel immediately intimate and familiar, but still fresh and exciting. It's the sound of a dream that stays with you all day.
4. Time – Mimi Page
Every single second of this song is beautiful, but "I'm just a fleeting sigh / In a never ending sky" is the precise moment when my heart shatters.
3. No More Shelter – Joan Shelley
Maybe the closest thing this world will ever come to a perfect hymn.
2. Should Have Known Better – Sufjan Stevens
It begins quiet and withdrawn, spare and beautiful, and then, on a perfect hinge, it transitions into something effusive, joyous, full of life and possibility. But in that leap, nothing from the previous half is lost, or forgotten. It all blends together, into an expression of pain, at a lost childhood, of love that went unsaid. And an expression of joy, at the way new families are formed. In the hope for the future. In the faith that, no matter how dark it is today, there's always the possibility of sun tomorrow.
1. Realiti (demo) – Grimes
There might be some better songs out there in the universe somewhere, but there certainly weren't any better songs this year. Even now, after roughly 7000 listens to this song (maybe an overstatement, but not by much), I remain utterly amazed. Her voice is ethereal, as always, as she bobs and weaves amidst a woozy dance beat that feels effortlessly constructed and yet pitch-perfect. Incredibly catchy without being the slightest bit overstated. Nothing about this could possibly be better.