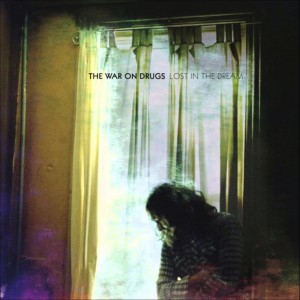 A year with many great albums and one transcendent one. It wasn't quite the cornucopia that we got in 2013, but was still a very good year for music. I could produce a list 50 albums deep with stuff I genuinely enjoyed this year, but these are the 25 that have really meant something important to me, and which I expect to stick with for a long time.
This list is far more pop-heavy than any other I can remember constructing. It's got two of the big chart-topping albums of the year, and a bunch more indie pop as well. I'm not sure if that signals a change in my tastes or in the musical landscape in general (certainly, the little indie rock boom of the last decade definitely seems to have been replaced by a return to synths and pop melodies). I think it's probably a bit of both. But anyways, I'm going to declare 2014 to be the year I stopped worrying and learned to love the pop.
That said, the rumors of rock music's death have certainly been exaggerated. You only need to check out the top couple albums on this list for proof.
25. Alcest – Shelter
Dreamy shoegaze, loud/soft dynamics, chiming guitars, indecipherable lyrics. If you like those things, you will like this album.
Highlights: Shelter, Voix sereine, Opale
24. Jon Connor – The Late Registration Of A College Dropout Who Had A Dark Twisted Fantasy Of 808s And Heartbreak
It really doesn't seem like this should work – a mixtape built entirely around the production from Kanye West songs – but somehow it does. Connor is not simply borrowing the beats, but is actively turning them to new purposes, and building something very impressive in its own right.
Highlights: We Don't Care, Jesus Walks, Blame Game, Trust Freestyle, Doin My Job
23. Mark McGuire – Along the Way
This is the album that pushed me over the top on my dissertation. I discovered it in mid-November, and proceeded to listen to it obsessively for two weeks while working like crazy to get everything tied together and finalized. Space-synths, electronic beeps and bops, a sense of grandeur that doesn't always pay off but is worth admiring nonetheless. Plus, his name is Mark McGuire! I look forward to albums on my 2015 list from Cal Ripkin and Roger Clemons.
Highlights: In Search of the Miraculous, The Instinct, Astray, The War On Consciousness
22. Literature – Chorus
RIYL: The Housemartins. Seriously, this band sounds a LOT like The Housemartins. Maybe a little bit more of the jangle pop side and a little bit less of the alt rock side.
Highlights: The Girl, the Gold Watch, and Everything, Court / Date, Chorus, New Jacket
21. Alvvays – Alvvays
Dusky and sweet on the surface, just enough darkness inside to keep you honest. Reminds me of the very best girl-group pop of the 60s, infused with just a touch of twee.
Highlights: Ones Who Love You, Next of Kin, The Agency Group, Adult Diversion
20. This Will Destroy You – Another Language
Loud/soft post-rock. The soft parts tend to be better than the loud parts, but the whole thing is good.
Highlights: Mother Opiate, New Topia, War Prayer, Serpent Mound
19. Magic Man – Before the Waves
Great electro-pop. It suffers just a tiny bit from being a bit too one-note. But all that really means is that every song is riding the same glorious wave of big synths and happy times.
Highlights: It All Starts Here, Texas, Every Day, Apollo, Too Much.
18. Luluc – Passerby
If you like sun and you like things being dappled, you will like this record. It's a delicate thing, making stripped down acoustic folk music. But there can be immense beauty in perfectly constructed simplicity.
Highlights: Reverie on Norfolk Street, Without a Face, Passerby
17. The Pains of Being Pure at Heart – Days of Abandon
Doesn't fulfill the promise of their last record, but remains a very nice album nonetheless. And in the end, there's always room in the world for another record filled with jangly songs about feelings.
Highlights: Life After Life, Kelly, The Asp In My Chest, Masokissed
16. Rosanne Cash – The River and the Thread
Rosanne Cash just keeps getting better with age. Half-remembered feelings coaxed out into the light which express themselves through a complicated mix of love and pain and sadness and nostalgia. Cash has lived in New York for more than two decades, but still remains intimately connected to the south and to the country music that birthed her. That bifurcated life infuses this record: the south is elegant, comforting, a historical fact, a living truth, a fading memory.
Highlights: When the Master Calls the Roll, Etta's Tune, Tell Heaven, World of Strange Design, Modern Blue
15. The Lawrence Arms – Metropole
Another record that didn't quite live up to my hopes for it. Oh! Calcutta! was a genuine punk masterpiece, and I've waited eight years for a followup. Unfortunately, this one lacks the heft needed to fulfill my expectations. Still, the more I stuck with it, the more I enjoyed it. Minor disappointment, perhaps, but when you come down to it, there really isn't ever going to be an album from Brendan Kelly that I won't love.
Highlights: Acheron River, Beautiful Things, Seventeener, Metropole, These Pigs Seem To Be Getting the Best of Me
14. Ariana Grande – My Everything
My love for this album is really a love for the first half, which is just about as solid a run of pop songs as you're likely to find anywhere, featuring the glorious bursts of "Break Free" and "One Last Time, the stark beauty of "Why Try," and the stomping good time of "Problem." While I enjoy the back half, which is more in the R&B songstress mold, it's those glorious big pop songs at the start that draws me back in every time.
Highlights: Break Free, Why Try, One Last Time, Problem, Be My Baby
13. Lights – Little Machines
RIYL: CHVRCHES. This album never quite scales the heights of the best CHVRCHES songs, but is far more consistent throughout. It's got a little bit more of a New Wave kind of vibe, but is definitely in that same wheelhouse. Just song after song of electronic indie pop goodness.
Highlights: Running With The Boys, Lucky Ones, Child, Up We Go, The Same Sea
12. S – Cool Choices
This was a genuinely surprising turn from Jenn Ghetto (formerly of Carissa's Wierd), who expanded her sound significantly – producing a big record with some genuine pop flourishes. It's a welcome change because, as much as I love her music, the unadulterated S has always been a little bit tough to consume in big doses. She needs to be cut with something a bit more effervescent in order to keep things from drifting too far down into the emotional abyss. So this record is a really nice proof of concept, which leaves me really excited to hear her stretch her wings a little bit more on future albums.
Highlights: Brunch,Vampires, Remember Love, Tell Me, Balderdash
11. Nothing – Guilty of Everything
Loud but delicate. Tender but sharp. Buried under a crushing weight but still somehow hopeful. Further description basically demands a series of 90s references. It's a slightly more emotional MBV, a slightly more destructive Sunny Day Real Estate, an alternate-universe Mellon Collie that combined the tunesmithing of that record with the guitar waves of Gish. And more than anything else: this sounds to me like a lost Hum record circa 1996. Which is pretty serious praise from me because I freaking love Hum.
Highlights: This is not an album of standout tracks. You just need to let the whole thing wash over you. So: start with Hymn To The Pillory and continue from there
10. Run the Jewels – Run the Jewels 2
I've got nothing to add that you probably haven't read a bunch of other places. One of the best hip hop albums in a very long time. Powered by a white-hot rage, but not simply an expression of disgust. It blows apart our expectations and the resulting shrapnel cuts apart every sacred cow. It doesn't resist the weaponization of art, but takes that as an opportunity. This is a call to war, one desperately needed in the America of 2014.
Highlights: Close Your Eyes (And Count To Fuck), All Due Respect, Blockbuster Night Part 1, Early, Angel Duster
9. Bing and Ruth – Tomorrow Was the Golden Age
Organic ambient music. What it would sound like to dive into a snowflake.
Highlights: The Towns We Love Is Our Town, Postcard from Brilliant Orange, Warble, Reflector
8. Angel Haze – Dirty Gold
A hit-or-miss album with plenty of songs that don't quite stick the landing. But there is just so much great stuff here that it's well worth the investment. I love her most when she is rapping at top speed, with passion and a deep sensitivity, and least when she's buried behind a wall of over-produced gloss. Fortunately, there's plenty of the former.
Highlights: Black Synagogue, Planes Fly, Echelon, Black Dahlia, New York
7. Taylor Swift – 1989
As I said on my list of songs, this is the year I finally gave up the ghost on my Taylor Swift skepticism. Say what you like about her, but the woman sure knows how to write a verse-chorus-verse-chorus-bridge-chorus song. Like, wow.
Highlights: Shake It Off, Style, Blank Space, New Romantics, Wildest Dreams
6. Brian Blade & The Fellowship Band – Landmarks
These songs are languid but also composed, loose but purposeful, melodic without losing a sense of the weird. This is a jazz record, first and foremost, but I also hear strong elements of folk, R&B, blues, and rock. Maybe even a little doo-wop. But each element is parceled out in small doses, and finely balanced with other themes. The result is a album that richly rewards careful attention, but never demands it. It's a comforting friend, a work of deep complexity, an inspiration, or a prayer. Maybe all at once.
Highlights: He Died Fighting, Embers, Ark.La.Tex., Shenandoah
5. Grouper – Ruins
Liz Harris' music is reclusive, indecipherable. Whatever secrets it reveals come only in the barest of glimpses – between ambient sounds or the crackle of static. With this album, all devices are removed. There is only her, a piano, and the croak of frogs out in the dark night. The result is a beautifully intimate essay on the experience of dis-identification.
Highlights: Clearing, Holding, Lighthouse, Labyrinth
4. First Aid Kit – Stay Gold
A genuinely surprising second-effort from these sisters. The wispy tones and beautiful harmonies are still there, but this is a far more muscular effort. It's the rare sophomore album that follows through on all of the promise in the debut while also evolving and taking the sound forward. I'm truly excited to hear where this band goes from here.
Highlights: Shattered & Hollow, Stay Gold, Cedar Lane, Heaven Knows
3. Haley Bonar – Last War
From the very first listen, I knew I loved this album. And I've spent most of the rest of the year deepening that relationship. This is a dark record, full of sardonic wit and occasionally heavy instrumental turns, but it never feels oppressive. That's in part because it's just nine songs, barely over half an hour. And the final product is wonderfully balanced: from galloping garage pop to tender folk melody to wall of sound crashing down upon you. It can sustain these shifts because the underlying melodies are so incredibly strong. Each one sets out to deliver one specific feeling and absolutely follows through. It's almost certainly the most tightly-constructed set of songs this year. Each one is a perfect little morsel, just waiting to be consumed again and again.
Highlights: Kill the Fun, From a Cage, Law War, Eat for Free, Bad Reputation
2. Cloud Nothings – Here and Nowhere Else
I'm honestly sort of shocked to find this as my #2 record of the year. Turns out it doesn't take much more than a couple guitars and a set of drums to melt my soul. This record snarls from start to finish. It doesn't quite reach the peaks of the last Japandroids album, but it is a reasonably wealthy man's approximation.
Highlights: No Thoughts, I'm Not Part of Me, Pattern Walks, Now Hear In
1. The War on Drugs – Lost in the Dream
This record single-handedly proves that rock and roll is still a vibrant genre, capable of telling us important things about who we are and who we might become. Combine Highway 61 era Dylan with the mid-80s Springsteen, mix in some Love Over Gold era Dire Straits, bring in the Heartbreakers as a backing band, and have Bryan Ferry produce the thing, and you'll start to get the idea of what's going on here. But in spite of all those references, Lost in the Dream never sounds even remotely dated. Adam Granduciel has somehow achieved the impossible: an album swimming in classic rock references that feels intensely specific to 2014. It's easily my favorite album of 2014. Honestly, you could split the thing in half and end up with the two best records of the year. It's that good.
Highlights: Red Eyes, Eyes to the Wind, An Ocean in Between the Waves, In Reverse, Under the Pressure, Burning, Disappearing