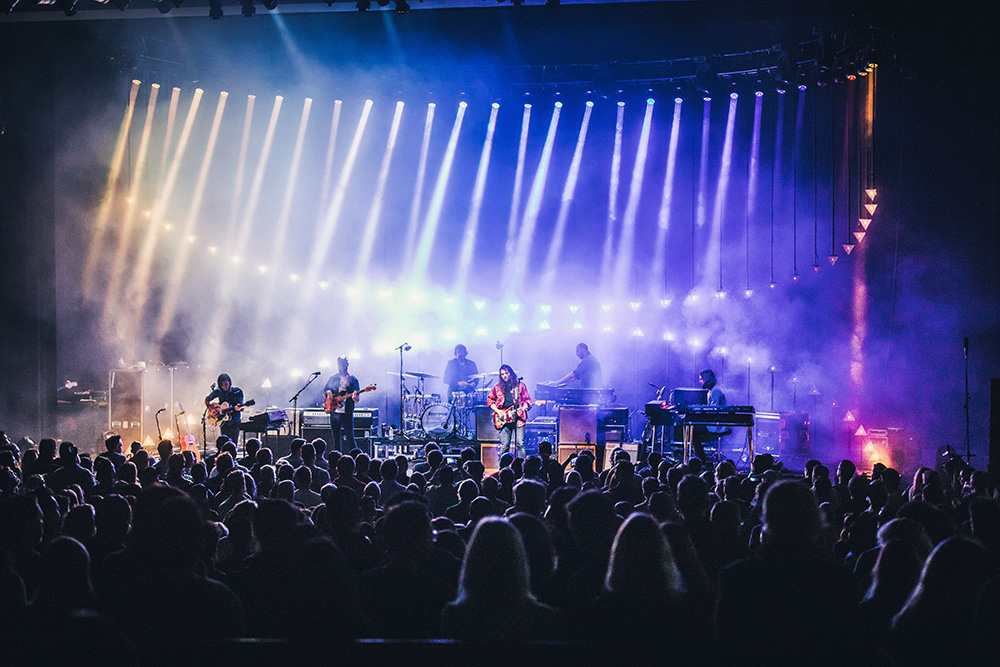 Last year I struggled to find fifteen albums I could fully endorse. This year I probably could have run the list out to forty or fifty if I had the time to write them all up. I don't know whether that's just coincidence, or whether the feeling of permanent crisis that seems increasingly define our era has sparked an artistic explosion. Maybe a bit of both. As is often the case: social trauma tends to travel in close proximity with artistic innovation. And while very few of these albums speak directly to our current political moment, it's not at all hard to hear it echoing through many of them.
Unfortunately, I've had a lot less time for music posts in 2017, so I haven't had a chance to write up any of these albums over the course of the year. But I'm happy to carve out a bit of space here at the end of the year to celebrate the music that has been keeping me company all year long.
As always, this is a list of my favorites. I make no claim that these are objectively the best. They're just the ones I liked the most.
Spotify playlist is available here.
25. Fazerdaze – Morningside
Dreamy vocals, warm bubbling guitar, a nice hit of reverb. Put it all together and you've got a perfect summer record. As is often the case with these things, there's actually quite a bit of anxiety nestled within the dulcet tones, which adds another level of richness to the experience of listening. It not a terribly complex record, but it is one that develops and grows as you listen.
Highlights: Shoulders, Last to Sleep, Bedroom Talks, Lucky Girl
24. Japanese Breakfast – Soft Sounds From Another Planet
Less immediately rewarding than last year's Psychopomp, but enormously fulfilling on repeated listens. More than any other record this year, it feels impossible to pick apart the individual songs. It's a gestalt, experienced in bits and pieces but only coming together through the flickering synapses that bridge the cavern between meaning and knowing. To listen to this album is to pick your way through tiny fragments of fossil, left for future archaeologists to puzzle over. In the end, each of us builds a form in our mind of what it's really about, never really knowing whether we've truly grasped its essence.
Highlights: Road Head, Till Death, Soft Sounds from Another Planet, The Body Is a Blade
23. Various Artists – Sweet As Broken Dates: Lost Somali Tapes from the Horn of Africa
A collection of songs recorded in Mogadishu in the 70s and 80s, when it was a multicultural and cosmopolitan hub. And the songs reflect this. You hear funk, disco, reggae, folk, rock and roll, and soul in these tracks – all filtered through the particular lens of that time and place. It's a remarkable document, and a reminder of just how fragile our cultural memory is. Thinking of Somalia today, it's almost impossible to imagine the vibrant shimmering city that produced all this music not so long ago. It's all compounded by the particularities of this compilation–which exists only because radio operators hid recordings–in some cases literally burying them in the ground for years–to keep them safe from the bombs being launched by governmental forces seeking to control the flow of information and popular culture. Those old tapes are now being digitized, making it possible for the whole world to see just a glimpse of what once was 'the Pearl of the Indian Ocean.'
Highlights: Na Daadihi, Haddii Hoobalkii Gabay, Gorof, Uur Hooyo
22. Sufjan Stevens – The Greatest Gift
There are vanishingly few artists good enough to justify listening to their outtakes. Sufjan Stevens clears the bar by a mile. As with his Illinois outtake record a decade earlier, this record is plenty good enough to stand on its own, and is only made better by the window it offers into his creative process. The Greatest Gift contains several (lovely) new songs, but it's heart and soul is the remixes and demos of songs already seen on Carrie & Lowell.
Highlights: The Greatest Gift, City of Roses, Wallowa Lake Monster, Drawn to the Blood (Fingerpicking Remix)
21. Cayetana – New Kind of Normal
New Kind of Normal is an ode to everyone struggling to find their way in a world that claims to love diversity while still contriving to punish every deviance. It's power pop for a cloudy day, punk rock layered over some interesting time signatures and chord progressions, the aggression and frantic energy of youth tempered by the weariness of wisdom.
Highlights: Mesa, Certain for Miles, Side Sleepers, Too Old for This
20. Dori Freeman – Letters Never Read
This record feels old-timey, which I definitely mean as a compliment, though perhaps a slightly guarded one. To listen is to dig through boxes in your attic, the quiet history that your grandparents left behind. There is so much joy there, and a sense of peace and calm. It doesn't really take any risks – which is why I say that my compliment is slightly guarded – but there's plenty of room in the world for music that just makes you feel good. I do hope for something a bit more ambitious from Freeman at some point. But if the goal was to deliver a solid followup to last year's wonderful debut record, this one fits the bill quite nicely.
Highlights: If I Could Make You My Own, Cold Waves, Turtle Dove, Just Say It Now
19. Alex Lahey – I Love You Like a Brother
Ten songs in 35 minutes, with each track tightly would up to pack the maximum punch. In that way it feels like a throwback to the era when rock records came in quick, hit you hard, and went off on their way. And as is often the case with this sort of breezy rock and roll: Lahey's songs have the air of something merely tossed off on a whim, a sort of cheerful insouciance which is actually exceptionally tough to pull off.
Highlights: I Haven't Been Taking Care of Myself, Backpack, Perth Traumatic Stress Disorder, Awkward Exchange
18. Harmony Woods – Nothing Special
It has all the gloss of an emo-revivalist act (to the point of being produced by Modern Baseball's Jake Ewald, which honestly might be a little too on the nose), while still feeling like a piece of utterly independent self-creation. It's jam packed with all the little details that are utterly specific in that way that makes them totally universal. And the songwriting is top notch. RIYL: songs about feelings, chiming guitars, crippling self doubt, cautious optimism, records that don't overstay their welcome.
Highlights: Jenkintown-Wyncote, Renovations, Parking Lot, Negro y Azul
17. Natalie Hemby – Puxico
A slightly uneven record, which packs its four best songs into the first four tracks. But oh boy are those first four songs great. The peak is Cairo, IL which deserves to become an immediate inductee into the great American songbook. It also features one of the best opening tracks of the year, with Time Honored Tradition offering a perfect induction into the beautiful blend of past and present that defines the record. The defining element of the record is Hemby's voice, a powerful instrument in its own right, and blended perfectly with delicately plucked strings, a weeping pedal steel, and whisper-light percussion.
Highlights: Cairo IL, Time Honored Tradition, Lovers on Display, Grand Restoration
16. Football, Etc. – Corner
I love this record plenty in 2017, but if I had heard it in 2003, I would have been absolutely head over heels. It would slot very nicely into the stuff I was spinning regularly then – early Rainer Maria, American Football, Jimmy Eat World, The Promise Ring, and so on. The guitars rise and fall in waves, with the vocals surfing along the top of the crest, occasionally bursting out with a clever lyrical twist that cuts right to the bone. Fun side story: I got to meet the band this year when my two side gigs (music blogger and soccer journalist) ran headfirst into each other at the final of National Women's Soccer League. Turns out they're huge women's soccer fans and were helping to organize a conference I attended the morning of the final. Small world.
Highlights: Eleven, Save, Foul, Space
15. Balmorhea – Clear Language
This is a much weirder album than the previous efforts from the Austin-based instrumentalists. While there still are plenty of examples of stately piano movements and delicately-plucked guitars, this does not feel like an album recorded in a symphony hall. I hear sounds of jazz, noise rock, Americana, and even pop. On the whole, I'm still most moved by the beautiful and minimalist numbers, but there certainly is an additional sense of heft granted to those efforts by their inclusion within a much broader sonic palette.
Highlights: First Light, Waiting Itself, 55, Dreamt
14. Nadia Reid – Preservation
I came to this record very late in the year and honestly have not really had enough time to sit with it and let it soak over me. In many ways it's a very simple album, a folk record tinged with touches of the surreal–very much in the tradition of a Neil Young. There is certainly some straightforward pop sensibilities here, and at times you can almost imagine Reid playing one of the side stages of Lilith Fair. And yet, there's a sort of psychic gap here that I simply haven't been able to adequately wrap my head around. Songs like Richard and the title track sound like they must have come through a wormhole from some alternate dimension where Napoleon never went to Russia and no one ever invented the internal combustion engine or something. I don't know. It's a great album, but I feel like I'm at a bit of a loss deciding just how great it is.
Highlights: Richard, Preservation, Right on Time, Hanson St Part 2 (A River)
13. Hammock – Mysterium
I enjoy every Hammock record, in part because they are willing to explore the boundaries of their genre. Each record is still noticeably from the same artist, but tend to vary widely in forms of instrumentation, pacing, and development. On this record, for example, they've turned away from most of the post-rock elements that infused their recent work. Instead, it's mostly strings and wordless choruses–the echoes of lost hymns unheard in centuries, but still lingering in the form of tiny echoes that reverberate in undusted corners. In that sense, it's perfectly named. This is, more than anything, the sound of mysterium brought to life.
Highlights: Now and Not Yet, Dust Swirling, Numinous, For My Sister
12. Adult Mom – Soft Spots
No frills, no whistles. Just nine perfectly constructed, sweet, jangly, clever little indie pop gems. It sings with the rhythm of life, the everydayness of doubt, the little joys of friendship and compassion, the peculiar mixture of freedom and loss that comes with every big life choice.
Highlights: J Station, Ephemeralness, Same, Full Screen
11. Gordi – Reservoir
Gordi's full length debut lacks any single song as breathtaking as "So Here We Are," which helped elevate her EP into my top 5 last year, but fills in the gaps very nicely with interesting, richly textured, music. It's pop, it's electronic, it's folk, it's rock, it's operatic. Think Bjork co-writing with Bon Iver, produced by Phil Collins. Except not really like any of them. Ultimately, the incorporation of so many different approaches generates a record that feels strangely timeless – as if it belongs wholly to itself and not to any particular moment or genre.
Highlights: On My Side, Long Way, Bitter End, Heaven I Know
10. Tica Douglas – Our Lady Star of the Sea, Help and Protect Us
A rumination on life, loss, faith, and the meaning of existence. I've loved Tica's work from back when they were practicing chords down the hall and playing tiny coffeehouse gigs in our little New England college town, and you can still hear the sort of intimacy and cleverness that defined those old coffeehouse days, but it's now been dialed up an entire new level. This is an album to sit with in a dark room and piece together the meaning of every note, but it's also a record for playing loud with the windows rolled down. I hear tinges of White Album era Beatles, of the late 70s post-punkers, of the Elephant 6 set, of contemporary pop. That melange never fully coalesces into a single theme or style, but it also never feels confused or muddy. This is an album that offers no answers, no clarity of vision or purpose. Instead, it asks for something much better (and harder): to dwell with the indecision, and to accept that we will never be fully secure.
Highlights: Death Come in Threes, My Friend's Exes, The Same Thing, I Won't Lie
9. Cloud Nothings – Life Without Sound
When discussing this album before its release, Dylan Baldi called it 'new age' record, which was certainly a strange comment for a band defined primarily by noisy, snarling rock and roll. But the descriptor actually makes a lot of sense. This is still, very noticeably, a Cloud Nothings record–the guitars still burn brightly, the percussion is still soul-rattling–but there is a mindfulness here that is surprising from a rock record. The transition is by no means perfectly executed, and there are glimmers of overweening rockism here, of the sort that produced a generation of self-satisfied prog-rockers. But only glimmers. On the whole, it's masterfully done.
Highlights: Up to the Surface, Modern Act, Enter Entirely, Sight Unseen
8. Katie Ellen – Cowgirl Blues
A record that walks the knife's edge between exuberance and depression with incredible poise. It's a breakup album, but is also so much more. Fundamentally, it's a reminder that life is about more than surviving, that if we climb high we will sometimes fall. And if that brings great pain, there is really no other way to be our authentic selves. It's called Cowgirl Blues more as a reference to the Tom Robbins novel than as an indicator of musical themes–this is more a record about suburban blues than cowgirl ones. But there's something universal in its ambition, which hopes to speak to the sort of independence evoked by the idea of the cowgirl–a spirit which beats even in the heart of the boring suburban millennial.
Highlights: Sad Girls Club, Bleeding Heart, Houses Into Homes, Drawing Room
7. Caroline Spence – Spades and Roses
Country music exists to explore the space between our deep vulnerabilities and our unflinching hopefulness. When it's done poorly, it degrades quickly into nostalgia. But when it's done well, it offers an unvarnished glimpse of the human condition. On this album, it's done very, very well. Hotel Amarillo is a tornado of loneliness and self-doubt, layered over a relentless commitment to continue placing one foot in front of the other. Southern Accident cribs musically from Long Black Veil in order to tell a coming of age story that is instantly recognizable while still being completely specific. Another highlight is Softball, which approaches the gender gap through the lens of softball, and concludes with the utterly devastating line: "they'll go to strike you out, and say "cheer up it's only softball." It's a lovely song, but it cuts right to the bone.
Highlights: Hotel Amarillo, Slow Dancer, Goodbye Bygones, Softball
6. Japandroids – Near to the Wild Heart of Life
Celebration Rock is probably my favorite album of the decade so far, and there was very little chance of the follow-up matching its glorious heights. And, to their credit, they have preserved much of the same joyous spirit that drove that record, without simply trying to re-record it. More than anything, to me it sounds like an ode to the great midwest bar rock bands of the 80s: Husker Du and The Replacements, and the like. Sure, there is something lost in the change. But there is also something gained: a looseness and easiness that comes with age and experience. It's not Celebration Rock, but it's still a great rock and roll record.
Highlights: Near to the Wild Heart of Life, True Love and a Life of Free Will, No Known Drink or Drug, Midnight to Morning
5. Susanne Sundfør – Music for People in Trouble
A cool autumn night in Lothlorien. High above the earth a canopy of leaves shifts aside to reveal the full moon. Its silvery light washes over a singer, golden-haired, pale, mysterious. Her words enfold you, and all memory fades into nothingness. You drift, cocooned in this fugue state, for what seems like only an instant. And yet, when you wake, all is different. The mountains worn down, the sky brighter, the ground softer. And you wonder: is it the world that changed, or only myself?
Highlights: Reincarnation, Undercover, The Sound of War, No One Believes in Love Anymore
4. Benoît Pioulard – Slow Spark, Soft Spoke and Lignin Prose
It's not particularly difficult to make decent ambient music – each composition is so simple that there's very little to really mess up. But it's exceptionally difficult to make great ambient music. Again, because it's so simple, there's absolutely nothing to hide behind. Every breath, every movement, needs to be perfectly aligned or the spell will break. Well, Benoît Pioulard makes great ambient music. These two records, put together, are probably the closest we've come to matching up with the classic And Their Refinement of the Decline by Stars of the Lid.
Highlights: Never Just As You Wanted, Lignin Poise, Hawk Moth Mirage, Same Time Next Year
3. Julie Byrne – Not Even Happiness
One of the great wonders of music is the depth and complexity that can be found from very simple instruments. This record breaks no boundaries, offers no new techniques, and could just as easily have been recorded in 1967 (or, frankly, in 1917) as in 2017. And yet it feels utterly distinct and new. From these simple pluckings, in this dusty voice, there are truths as yet unexplored. Stories as yet untold. This is a record for long afternoons on the porch, drinking sweet tea and watching the rays of light drift down through the leaves above.
Highlights: Sleepwalker, Follow My Voice, Morning Dove, All the Land Glimmered Beneath
2. Phoebe Bridgers – Stranger in the Alps
Coming into the year, we had some tantalizing hints from Bridgers (she had songs on my 2015 and 2016 list), but still no full length album. Well, the wait was worth it. This is a stupendous record, which exhibits all the deft songcraft, insightful lyrics, and keen sense of melody which we anticipated. If I have a complaint, it's only that there are a few places where the production slightly overwhelms the songs. In particular, two tracks are re-recordings of work she'd already released (Killer and Chelsea), and in both cases, I think I actually prefer the rougher demo. But in other cases (Motion Sickness, Demi Moore), there is a clarity and crispness that turns great songs into classics. So it's hard to get too worked up about it.
Highlights: Motion Sickness, Smoke Signals, Funeral, Demi Moore
1. The War on Drugs – A Deeper Understanding
This band is operating on a different level from everyone else. This is their second #1 showing on my list in the past four years. And while this record isn't (quite) as mind-blowing as Lost in the Dream, it still comes in as my favorite of the year. The synths are a bit overbearing in places, and the production is just a bit too airy for my tastes. But there is no denying these songs. Propulsive, introspective, joyous, weathered. There were more innovative and interesting albums this year, but none that drew me back to insistently.
Highlights: Thinking of a Place, Nothing to Find, In Chains, Holding On, Strangest Thing
Honorable Mentions:
Julien Baker – Turn Out the Lights and Aimee Mann – Mental Illness. Two beautiful records filled with deceptively simple, heartfelt story-driven songs. Neither did quite enough for me to make the cut, but that's just a sign of how much great music there is out there.
Vanessa Peters – Dal Vivo. A live record from one of my long-time favorite artists. I finally got a chance to see her live last fall, and hope to make another show soon. But in the meantime, this is a nice way to tide me over.
Lorde – Melodrama. I was never quite able to sell myself on this as an album qua album, but I still enjoyed it immensely even if it didn't quite stick the landing.
Blis – No One Loves You. Sounds a little too close to a Sunny Day Real Estate knock-off for comfort. But on the bright side, it sounds like a Sunny Day Real Estate knock-off!
Jason Isbell – The Nashville Sound. This is probably my least favorite Isbell solo record (which makes it a little strange to me that it seems to be getting the best press) but even a mediocre Isbell record has plenty to love.
Thurston Moore – Rock N Roll Consciousness. Thirty years since Daydream Nation came out, and he's still bringing the heat.
Land of Talk – Life After Youth. Indie rock no longer has quite the cachet as it did ten years ago, but Land of Talk are still keeping the spark alive.