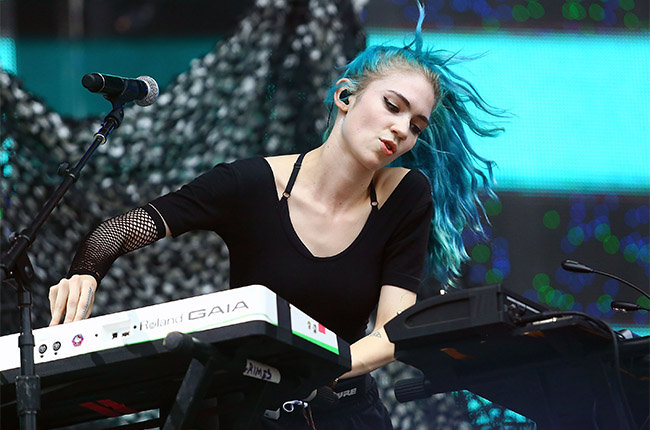 30. Eternal Summers – Gold and Stone
Dream pop with a punk spirit and a lot of sharp edges – a genre that seemed to explode in 2015. There will be a few more artists later on the list who also operate in that field, and quite a few others that I enjoyed but who didn't quite make the cut. This one suffers a bit from top-heaviness; it's got six fantastic songs and four totally forgettable ones. Could have been the best EP of the year with a little editing.
Highlights: Build your EP from Together or Alone, Play Dead, The Roses, Bloom, Gold and Stone, Come Alive, and don't worry about the rest.
29. Jason Isbell – Something More Than Free
It's a testament to Isbell's incredible talents that this record could be a crushing disappointment and still manage to make the list. I'm not sure he's capable of writing a bad song, but there also isn't much that's particularly good here either. A few lines dropped in here and there that shine like beacons, a few melodic twists that cut to the bone. If I can extract myself from my expectations, I can see a perfectly good record here, but it's hard not to compare it to his previous work and be a little bummed.
Highlights: Something More Than Free, 24 Frames, Speed Trap Town, Hudson Commodore
28. James McMurtry – Complicated Game
It's kind of incredible that one family could produce two men so adept at telling stories, but in two very different ways. It's not just about the medium involved (Larry working with the novel, James the song), but also the manner. Where his father's novels are densely populated and intricately plotted, the younger McMurtry tells so much through absences, inspiring the imagination through single lines that carry the inflection of whole lives. There's the old couple, looking back to notice that "We turned into our parents before we were out of our teens." There's the soldier, set free from the hell of war, only to return home and realize "There ain't much between the Pole and South Dakota / And barbed wire won't stop the wind." And there's the desperate crabbers, just barely scraping by, and:
Staring down that long, steep slope
We gather round and we hold out hope
Because at the end of the rope
There's a little more rope
Most times
Highlights: South Dakota, Long Island Sound, Copper Canteen, Carlisle's Haul
27. Lord Huron – Strange Trails
I like Lord Huron, but they've got one of the worst cases of 'all of your songs sound exactly the same' I've ever encountered. Reverb-heavy Americana with a galloping beat: check, check, and check again. It's too bad, because I find myself so frustrated at their inability to step even one tiny inch outside of the box that I sometimes forget to notice that their single song is pretty damn catchy. See also: Best Coast – California Nights.
Highlights: Cursed, Meet Me in the Woods, Fool for Love, Frozen Pines
26. Logic – The Incredible True Story
Logic is one of my favorite rappers these days. His language is crisp, his intonation precise, and the production is excellent. These songs flow easily and build with grace and style. But speaking of records that could have used some editing, holy cow did this one need someone to come in with a scalpel (or even a machete). Where it's good, it's very good, but there just isn't the depth of resources here needed to fill out the 18 sprawling tracks. I particularly could have done without the 'scenes.' Cut down to a sleek 10 tracks, this probably would have slotted into my top 15 albums of the year.
Highlights: Young Jesus, Run It, Paradise, Innermission
25. Vanessa Peters – With the Sentimentals
Another great album from one of my favorite artists. This is a decidedly low-key affair, probably the most classically 'folk' record from her yet—full of simple songs that draw you in quickly and leave you feeling light on your feet all day. The arrangements are light and relatively sparse, but full of warmth and joy. It's a quiet and cheerful confidant—who doesn't make demands but is just there to listen and smile and keep you company through the dark winter days. A friendly voice in my ear as I garden or cook, a whisper of sunshine on my dark and dreary commute. These songs are tender, casually-constructed, and intimate. They touch on heavy subjects and strike some deep emotional chords, but they do so with such an extraordinary gentleness and sense of good spirit that it never risks feeling oppressive.
Highlights: Call You All The Time, Pacific Street, Getting By, My Choice
24. Mark Knopfler – Tracker
Probably the most relaxed record Knopfler has ever released. His storytelling is immaculate, as ever, and the quiet confines give him a chance to let the songs breathe. It's no towering work of genius, like his peaks in the Dire Straits days, nor is it a bold entry into the annals of blues or folk, like some of his other solo works. But for all its lack of pretensions, I find myself drawn back more and more, luxuriating in the sound of an old master comfortable in his environs.
Highlights: River Towns, Laughs and Jokes and Drinks and Smokes, Beryl, Basil
23. Inventions – Maze of Woods
Inventions is a joint project between Matthew Cooper from Eluvium and Mark Smith from Explosions in the Sky, and it absolutely delivers on the premise. But it's not simply a combination. In the collaboration, they find new echoes in both of their sounds, and offer something darker, more twisted, but also more beautiful for all of its strange perturbations. Not quite electronica, but not quite anything else, either. The closest analogue I can think of is 65daysofstatic, but even that doesn't quite match up. Maybe if 65daysofstatic was covering Stars of the Lid.
Highlights: Wolfkids, Springworlds, Slow Breathing Circuit
22. John Moreland – High on Tulsa Heat
Moreland embodies the quiet wisdom of the world-weary, the voice of a generation who has grown up doubting whether this world really has that much to offer them, but still insists on finding reasons to care. He's a Townes Van Zandt for the 21st century, not quite as mercurial in his genius, but equally capable of finding just the right pitch, just the right lyric, just the right catch in his voice to make everything right true. By far the biggest weakness of the album, however, is in the production. Moreland is at his best solo, just voice and guitar and audience, but the effort to transform these songs into full arrangements doesn't quite stick. The percussion, in particular, is heavy-handed to the point of distraction. There is more than enough quality here to make me set those concerns aside, but I'd love to hear him slightly more unfiltered.
Highlights: American Flags in Black & White, Cleveland County Blues, High on Tulsa Heat, White Flag
21. Vanessa Carlton – Liberman
Yes, that Vanessa Carlton. And yes, it's a great album. You can hear just enough of the melodic sensibilities that made A Thousand Miles such a huge success, but while that song evoked bright colors and bleached sunscapes, this record is a study in the many shades of gray. But for all that, it retains a strong emotional core. Listening to it, I find myself transported to the Yorkshire moors of Wuthering Heights, walking amidst a grim and rocky land, full of doubt and wonder.
Highlights: Nothing Where Something Used To Be, Willows, Blue Pool, River
20. Floating Points – Elaenia
A bewitching hybrid of jazz, electronica, post-rock, and funk. It's endlessly provocative, with strange twists and turns to delight and surprise, with a hint of the improvisational spirit drawn from its jazz roots. But each movement necessitates a counter-turn, which resolves and then settles the senses. At least until the finale, where Peroration Six throws all constraints aside and simply rises, rises, rises, until like Icarus it all suddenly crashes without warning.
Highlights: Silhouettes (I, II & III), Peroration Six, For Marmish, Nespole
19. Say Lou Lou – Lucid Dreaming
I've been eagerly awaiting this record for a couple years, ever since I first heard Julian and went out of my mind with how perfect it is. And each new track only heightened my excitement. However, it turns out that they perfectly identified all the best songs, and released them as singles, so when the album actually dropped and I finally heard the remainders I was…a little underwhelmed. Still, there are no BAD songs here, by any stretch. So while it doesn't live up to the promise, there's still plenty of new material to enjoy.
Highlights: Julian, Everything We Touch, and Beloved (the three previously released songs) are by far the best. But apart from those, you also won't go wrong with Nothing But a Heartbeat, Hard for a Man, or Glitter
18. Modest Mouse – Strangers to Ourselves
I've resigned myself to the fact that MY Modest Mouse is fifteen years in the rearview mirror and is never coming back again. It's been tough to let that band go, and to not judge the newer iteration of Isaac and company through the lens of nostalgia, but I think I'm just about ready to welcome the band back into my life as a new entity. Strangers to Ourselves isn't a perfect album by any stretch. Many of the songs simply don't work, there's a ton of bloat, and even some of the good songs feel compressed to the point of asphyxiation. But in spite of those concerns, I find quite a lot to love here.
Highlights: Lampshades on Fire is a glorious stomper of a song, The Ground Walks, With Time In A Box is a barn-burner, and Ansel perfectly conveys the impossibility of fully understanding the meaning of loss.
17. Radical Dads – Universal Coolers
It seems churlish to stick them with the label 'indie rock,' given the way the term has become something of a floating signifier in musical criticism. But in describing them that way, I want to evoke the whole range of possibilities. To me, indie rock is best expressed as an aspirational style: one that tries to meld together the intimacy of a lo-fi recording and the energy of the classic rock show. It's the Beatles rooftop show, which tries to split the difference between their studio recordings and the arena shows filled with screaming fans. It's Sonic Youth, trying to set your spirits free by wringing the noise of their guitars. It's Death Cab, trying to particularize the universal and universalize the particular. It's a few people in a room, smashing their drums and strumming their guitars, and asking us to care just a little bit. I hear all of that in Radical Dads. And while the reference probably won't mean much to most of you, to me they sound a heck of a lot like The Sinister Turns. Which longtime readers will know is high praise indeed.
Highlights: In The Water, Slammer, Cassette Brain, Desperado Dude Lens
16. The Corner Laughers – The Matilda Effect
It's got the strong melodic spine of northern soul, the effervescent delight of your favorite Sarah Records bands, and the joyful vibe of every great jangle-pop song you've ever heard. And, within this general recipe they manage to discover quite a few diverse sounds and tones. A twinkly beat here, with a rousing gallop to follow, and then a sweeping guitar solo, all topped off with endlessly clever lyrical turns. And the electric ukulele has never sounded so good! If you like your music dark and lugubrious, this band won't be for you. But if you've got any sort of sweet tooth, you're in for a treat.
Highlights: Fairytale Tourist, Queen of the Meadow, Midsommar, Martha (Cincinnati, 1914)
15. Stranger Cat – In the Wilderness
A pastiche of electronic textures, put to service in the development of an almost orchestral sort of chamber pop. These songs shine like beacons in the cold night skyline: an invitation to something beautiful, yet impossibly distant.
Highlights: Sirens, Ecstatic Energy, Unzip Your Skin, I Lost It
14. CHVRCHES – Every Open Eye
A strong sophomore effort, which firmly cements them in the upper echelons of contemporary synthpop. Their songs shine and gleam, in a way that virtually no one else can manage. And while the peaks aren't quite as high as they were on The Bones of What You Believe, the valleys are fewer and less extreme (apart from the inexplicable High Enough To Carry You Over, which I'm just going to pretend doesn't exist). I don't remember where I read it, but one review analogized this record to Jimmy Eat World's Bleed American, and ever since I saw that, I can't get the comparison out of my head. Obviously they're drawing on different 80s influences, but even drilling down to a song-by-song comparison, they match up eerily well. But as an unrepentant lover of Bleed American, I have no complaints.
Highlights: Clearest Blue, Empty Threat, Leave a Trace
13. Royal Headache – High
Ten songs, less than 30 minutes long, straight from the garage to your ears, this is punk rock the way it was meant to be done. Great hooks, which hit you hard and then show themselves the exit before you have time to realize what's happened. I hear a lot of the Vibrators, a lot of early Oasis, a bit of Blur, a bit of The Smiths, and some Cock Sparrer to tie the whole room together. But still, despite the very simple shared ingredients, each song feels distinct and vital in its own way. The only real misstep is Wouldn't You Know, the obligatory 'ballad,' which isn't terrible but feels inessential in the way the rest of these songs absolutely do not.
Highlights: Carolina, Little Star, High, My Own Fantasy
12. Hop Along – Painted Shut
There's a lot to love about this record: gritty melodies, slashing guitar work, some incredibly tight percussion, but ultimately it has to come back to Frances Quinlan's extraordinary voice, rough as sandpaper, but beautiful in its cragginess. The clear highlight is Waitress, where she crackles with enough energy to level a small city, but still somehow manages to communicate a deep sense of vulnerability. Then there's the lovely I Saw My Twin, which diagnoses the uncomfortable dynamics of class without feeling the slightest bit didactic, or Texas Funeral, which resides somewhere between punk and the classic rock, or Horseshoe Crabs, which slides along a whisky-soaked groove, just waiting for the brawl to break out so it can land a few good swings. If you like rock and roll, in just about any form, you'll probably find something to love here.
Highlights: Waitress, I Saw My Twin, Sister Cities, Horseshoe Crabs
11. Hamilton – Cast Recording
This won't be news to anyone who has been paying attention to pop culture commentators over the last few months, but the Hamilton musical is pretty awesome. I'm not QUITE willing to declare it the act of pure genius that some have already bestowed, but it's not that far away. The story of Hamilton's career, and the surrounding political climate, is fascinating in its own right, but is given far more depth and emotion by unifying the personal and political. It brings the Founding generation to life in a way that was entirely unexpected, but feels inevitable once you've heard it.
Highlights: Cabinet Battle #1, Satisfied, Right Hand Man, Yorktown, Cabinet Battle #2
10. All Dogs – Kicking Every Day
Waxahatchee has been getting the lion's share of the praise, but to my ears, this record from All Dogs is the far superior version of the pretty-with-an-edge 90s throwback singer-songwriter genre. What can I say? I'm a sucker for a great melody, and this record has got 'em in spades. Think Juliana Hatfield or Liz Phair or the Lemonheads or That Dog or Hole. In an alternate universe, this record is the soundtrack to 10 Things I Hate About You.
Highlights: The whole first half of the record is absolutely spot on, with my particular favorites being Your Mistakes, How Long, and Sunday Morning
9. Helen – The Original Faces
Helen is the dream pop/shoegaze band fronted by Liz Harris from Grouper, making this the third year in a row that she has made the top 10 on this list. Unsurprisingly, for a Liz Harris project, the heart of this record is its balance between voice and atmospherics. In places, the songs almost feel tossed off, but to my ears there's something liberating about the looseness of this record. You get the feeling that these aren't even 'songs' exactly, so much as they are the emanations of an adjacent harmonic structure, which only occasionally crosses through our own. And yet, for all that, there is a clear pop structure to these tracks. It's pop music for those who'd rather be buried underneath the noise than be expected to surf the waves, but pop music nonetheless.
Highlights: Allison, Dying All the Time, Grace, The Original Faces
8. Eskimeaux – O.K.
I'm hardly the first person to notice it, but Eskimeaux is just about the perfect example of an artist taking close 4-track bedroom recordings and translating them to a full-bodied studio experience, without losing ANY of the intimacy. Listen to them on headphones, alone in a quiet room, and these songs feel like gentle caresses. Put them on your speakers and roll down the windows, and they feel propulsive. This is indie pop at its finest.
Highlights: Everything You Love, Broken Necks, Sparrow, I Admit I'm Scared
7. Worriers – Imaginary Life
For lack of a better term, let's call it punk. The sound is more finely crafted and precise (the record was produced by Laura Jane Grace from Against Me!, and it definitely sounds like it) than your classic punk records, but retains all of the political aggression. These songs are tightly constructed and perfectly realized, whether they're critiquing police violence, the limitations of gendered pronouns, or just talking "of life and love and ambitions for nothing in particular." This is a record documenting the feeling of loss that separates ambitious youth and frustrated adulthood. It's full of the fears and worries that defines that period, but also full of the joyful moments, and the sense of accomplishment that come from the realization that you're starting to truly discover yourself.
Highlights: Yes All Cops, They / Them / Theirs, Glutton for Distance, Life During Peacetime
6. Moving Panoramas – One
A truly beautiful record, one that evokes Galaxie 500, the Cocteau Twins, Slowdive, and about a hundred other bands you probably love just as much. Basically, this is the best Labrador Records album I've heard in years, except they're from Austin.
Highlights: Always, Radar, Believe, Harmony
5. Joan Shelley – Over and Even
Many genres have die-hard fans, who rhapsodize over the brilliance of the style. But where are the evangelists for the unassuming, the homespun, the contemplative? No, these songs don't reach out through the speakers and force you to listen. They don't demand your attention or change your life. But they do something much more important: they remind you to live each day well, to sympathize, to share the good and the bad with those who love you, and to find a way through every bad feeling. Joan Shelley isn't breaking any new boundaries. Her songs are the sort of simple, joyous ones that people have been playing for as long as any of us can remember. But very few, in all that time, have done it so well.
Highlights: No More Shelter, Wine and Honey, Not Over By Half, Easy Now
4. Sleater-Kinney – No Cities To Love
When a much-loved band returns after a long hiatus, it's always felt with a mixture of excitement and trepidation. Usually they broke apart for a reason, because the creative spirit wasn't there anymore, or they'd simply run out of productive angles to explore with one another. So the reunion invites us to wonder: is there really anything new left in the well, or is this simply an effort to revive past glories? It's actually quite rare for these things to succeed, but thankfully Sleater-Kinney are an exception. This isn't their best record (The Woods, Dig Me Out, and One Beat are all better, I think), but it's also not that far away. They've still got the classic mixture of tight melodies, angular guitars, and thumping drums, but have tied those things together into far more traditional rock structures. The result is still clearly Sleater-Kinney, but a new iteration, and one that I have enjoyed greatly all year.
Highlights: A New Wave, Bury Our Friends, Hey Darling, Price Tag
3. Mimi Page – The Ethereal Blues
Orchestral sweeps, trip-hop beats, lyrics that speak of a deep well of sadness, but which elevate rather than weigh down. I hear tinges of Enya, of Massive Attack, of Goldfrapp, of Morcheeba. The closest reference, though, has to be the early Tori Amos. But (and I say this as a huge Tori Amos fan) this record is better than anything Tori managed. It's deep, immaculately produced, full of rich sensations, textures, and melodies as uncanny as they are gorgeous. It's also truly an album to be experienced in totality. For all the wondrous beauty of the individual components, the true genius is in the careful layering of possibilities from song to song. With each new essay, fresh angles are revealed, more possibilities uncovered. One track is mesmerizingly beautiful, spare, delicate: an invitation. The next brings tension, apprehensiveness, even fear. And then the senses twine together, introducing a spirit of disquiet, and then an invitation to resolution. The process is dialectical: endlessly provocative, eternally haunting. Each time I return, it begins again, and I find new reasons to love it.
Highlights: Time, Human Hurricane, The Ethereal Blues, Always and Forever, Singing in the Dark
2. Sufjan Stevens – Carrie & Lowell
There really isn't much to say about Sufjan that hasn't already been said, to be honest. Back in my very first post on this blog (just a shade under 10 years ago), I referred to his music as 'devastating beautiful' and this album does nothing to dissuade me of that opinion. In many ways, it's the perfect condensation of what he's offered us over the years. As delicate as Seven Swans, as emotional as Michigan, as exquisite as Illinois, as adventurous as Adz. But the feelings. Oh, the feelings.
Did you get enough love, my little dove
Why do you cry?
And I'm sorry I left, but it was for the best
Though it never felt right
My little Versailles
What else could I possibly add?
Highlights: Should Have Known Better, No Shade in the Shadow of the Cross, Fourth of July, Eugene, John My Beloved, Blue Bucket of Gold
1. Grimes – Art Angels
Tour de force doesn't even begin to describe this record. This is the work of a genius, at the peak of her powers, flexing her muscles and discovering that the laws of physics no longer constrain her. Anything is possible in her hands, from bold and bright pop (California) to the jagged edges of a concealed blade (Kill V. Maim) to a moment of pure and unadulterated beauty (the Realiti demo). Or, rather than dabbling, why not mix it all together into a singular creation: the perfect dance track, which sings to us through the dimensions, and speaks of potential as yet beyond the reach of our philosophy (Flesh Without Blood). In an era where 'pop' and 'art' and 'rock' find themselves enmeshed in a Stately Quadrille, Grimes rises like a Colossus above the shifting terms and phrases of engagement, looking down with disdain upon those who waste their time fighting about authenticity and facsimile. Whatever music is, or should be, it's here, and there's no better time to join the bandwagon.
Highlights: Realiti (demo), Flesh Without Blood, Kill V. Maim, California, Belly of the Beat, Butterfly, Venus Fly, Scream, the whole damn record