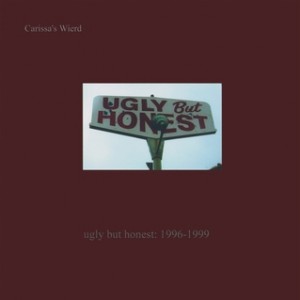 My favorite band is The Beatles. There are probably tens (if not hundreds) of millions of people who agree with me there.  But my second favorite band hasn't even been heard of by a million people.
Carissa's Wierd only released three full albums before going their separate ways – but what an amazing three albums they were.  All three made my list of the top albums of the aughts (coming in at #1, #8, and #14).
I discovered them in late 2001 and have spent the last twelve years prosletyzing.  Every mixtape I made for a friend had to include a song from them.  I played them constantly at events, always hoping that someone would come and ask what was playing.  I contacted their (elusive) PR contact in the hopes of literally paying them out of my own pocket to come play at my college.
Sometimes it worked, and the group of my friends who were fans grew slowly but surely. But each new one only made me want to tell more people.  And then, wonder of wonders, they were signed by a semi-major label.  And it seemed like perhaps they were finally going to make it through to the mainstream. Sure, heartbreakingly intimate, low-fi songs with violins weren't going to rush up the charts or anything but this stuff was just so good, surely there were more than enough people out there who could appreciate it.
And then, before we knew it, it was all over. They broke up, moved on, and all that's left is the glorious, glorious music.  If you want a broad introduction, Hardly Art put together a 'greatest hits' compilation a couple years back.  But really: you should just do yourself a favor and buy the whole catalog.
10. Blessed Arms That Hold You Tight (Ugly But Honest)
To me this song is a perfect encapsulation of the band. While they hit some higher notes, virtually everything wonderful about Carissa's Wierd can be found here in some degree. Soft verses with loud choruses, whispered invocations of an almost limitless sadness ("it's all long goodbyes"), ringing guitars, soaring violin, hearts on the verge of being torn apart – held together by the barest of threads.
9. Ignorant Piece of Shit (Songs About Leaving)
As close as they ever came to the world of a more straightforward indie rock. Despite being buried deep in the mix, the piano is crucial on this track – it links together the emotional frailty of the lyrics with the aggressive march of the drums and guitar. This song kicks off their third and final record, the one that I was sure would vault them into the mainstream. It's far more accessible without losing the basic charm of 'sad kids with guitars and violins.' Alas, it was not meant to be.
8. On Marriage – re.defined by Carissa's Weird (Lost Notes From Forgotten Songs)
This is a track they remixed for a compilation album by The Six Parts Seven. So it's not precisely a Carissa's Wierd song, but still feels absolutely of a part with the rest of their work. Gorgeous hushed harmonies singing bittersweet lyrics with just a glimmer of hope ("See you on our wedding day, I can't believe this turned out my way / Broke her heart to just save mine, I'll love you on our wedding day"), delicate fluttering piano, it's all here.
7. Blankets Stare (I Before E)
A live version, on which they take an already wonderful song and supplement it with a rousing send-off. In that final minute and a half they demonstrate that they could have been a damn fine jangle-rock band if they had wanted to be.
6. One Night Stand (Ugly But Honest)
The highlight is the blending of Mat Brooke's and Jenn Ghetto's voices, both of them perfectly imperfect but somehow brilliantly pure together. The first half is a long, slowly drawn breath. Held with expectancy, with a shy hope. All the wounds are cauterized in the final minute when they take their separate paths, eyes wide open, and exhale these breaths with growing force. It's as soft as can be, but shakes your soul like you can barely understand.
5. The Color That Your Eyes Changed With the Color of Your Hair (You Should Be At Home Here)
If I ever have reason to doubt that true love is possible, I have this song to remind me. "For the next 50 years I will still write you love songs…" Oh my. It has a classic soft/loud verse/chorus structure. The verses are built around a violin that swoops around vocals, suggesting hesitance and fear: the terror of pain threatened by the introduction of love. But the chorus is a glorious counterpoint, an affirmation, a joyous and unrestrained embrace. It can only be so beautiful because of the pain it promises to hold at bay.
4. Meredith & Iris (Tucson single)
This song was released in 2011 – the first new music from them in almost a decade.  You only have to consult the archives to see how excited this made me. The sound is more developed than their early recordings: the singing is more forceful, the guitars are mixed cleanly. The movements are bigger, and they swoop through a bit of electric buzz. But, most importantly, it is utterly beautiful. And while I will always love the wispy early stuff from them the very most, there is something powerful about the harmonies that Mat Brooke and Jenn Ghetto put on display here. "Oh we will rise…"
3. Fluorescent Lights (Ugly But Honest)
Oh god, that guitar might just be the most beautiful thing in the world. It's fragile, melancholy, almost inconsolable. When he breathes "and I just hate these fluorescent lights" the weight of the world falls upon you. The sadness of it all becomes almost unbearable. And yet, I can't possibly wish for anything else. All the pain of the world can't drive me to despair. I just feel the sound enfold me, smile wistfully, and dream…
2. Drunk With the Only Saints I Know (Ugly But Honest)
It's the sound of life in its deepest register. In it you hear the sound of your own breath, you discover something deep inside that you've never quite been able to understand: a shy hope, held tenderly with the knowledge that all of the most perfect things in the world are also the most fragile. Mat Brooke and Jenn Ghetto sing in hushed tones, and their voices blend into something beyond mere words: full of imperfections and yet somehow brilliantly pure. The drums beat with the rhythm of your pulse, the guitars chime like wedding bells heard far in the distance. It's as soft as can be, but shakes your soul like you can barely understand. It's heartbreak, it's catharsis, it's just life, and nothing more.
1. All Apologies And Smiles, Yours Truly, Ugly Valentine (You Should Be At Home Here)
I simply do not have the words to express how deeply I love this song. It's my favorite song in the entire universe, and honestly, nothing else is really even that close.
Listening to it today, it feels just as fresh as it did on that late-summer afternoon in 2001 when I first heard it. It sings to me of who I was then, who I am today, who I could someday be. It is my pain, my moments of despair, my wishes unfulfilled. It's emotionally ragged, hesitant, fearful. It knows everything that haunts me, every dream lost. And yet it still lifts me up. It shows me all those things in the bright light of a morning sun. It is falling in love. It's long evenings with friends. It's a warm blanket and a fire on a cold night. It's the remembrance of things past that remain with us. It's tears running down your face, unspeakable loss, all the joy and pain of a life held together. It's the shy smile across a room and it's the grief at the end of a life spent together. It's the tolling of bells that calls us home.
Honorable mentions:
11. Some Days Are Better Than Others (Ugly But Honest)
12. Brooke Daniels Tiny Broken Fingers (You Should Be At Home Here)
13. Die (I Before E)
14. Sharin' a Hole (Scrap Book)
15. Heather Rhodes (Ugly But Honest)