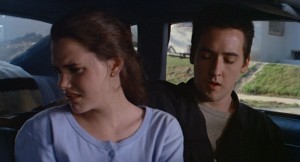 No Children – The Mountain Goats
Everything Reminds Me of Her – Elliott Smith
Which are better: songs about falling love or songs about breaking up?
I got to thinking about this because I've been putting together these top 10 lists for some of my favorite artists and I keep noticing that love (unsurprisingly) features pretty prominently in many of them. But it can go in wildly different directions.
You've got The Beatles: "In My Life" vs. "For No One." Or "I Want to Hold Your Hand" vs. "Yesterday." Springsteen: do you want the optimistic "Thunder Road" or the firestorm that is "Backstreets"? With The Magnetic Fields: "The Book of Love" vs. "I Think I Need a New Heart." Even seemingly one-note bands like The Cure will counterbalance a "Pictures of You" with a "Friday I'm in Love." How about Beyonce: are you a "Crazy in Love" sort of person or a "Single Ladies" fan? Go back to Motown and you can compare The Four Tops ("I Can't Help Myself" vs. "It's the Same Old Song") and The Supremes ("I Hear a Symphony" vs. "Where Did Our Love Go").
Some of the finest albums ever made are essentially breakup albums. Rumours, of course, is the classic example. Blood on the Tracks is probably Dylan's best album. For a modern one: The Midnight Organ Fight is one of my favorite couple records of my lifetime. The Con is, by far, Tegan and Sara's best record. I'm pretty anti-Beck, but Sea Change is a truly wonderful record. Only the Lonely is among Sinatra's best. Tom Petty released the very fine Echo in the midst of a divorce. And the even-better Wildflowers is also infused with the spirit of collapsing love. Springsteen has Tunnel of Love. And so forth. Even this year, Josh Ritter's very fine new record is a series of reflections on his divorce.
Ultimately, if I had to choose I'd go with the happy songs.  Because that's pretty much who I am.  But intense pain can really generate some beautiful songs…
Anyways: here's my list of the top 10 breakup songs (Standard disclaimers: one song per artist, this is a subjective list, etc.):
1. Graceland – Paul Simon (full post on this song here)
2. For No One – The Beatles (full post on this song here)
3. Romeo and Juliet – Dire Straits (full post on this song here)
4. No Children – The Mountain Goats
5. Landslide – Fleetwood Mac
6. Dry Your Eyes – The Streets
7. Love Will Tear Us Apart – Joy Division
8. Most of the Time – Bob Dylan (full post on this song here)
9. Everything Reminds Me of Her (or Say Yes, or Miss Misery, or Somebody That I Used to Know…) – Elliott Smith
10. Runaway – Kanye West (full post on this song here)
Honorable mentions:
I Will Survive – Gloria Gaynor
Fuck and Run – Liz Phair
Last Goodbye – Jeff Buckley
November Rain – Guns and Roses
This Conversation – The Submarines