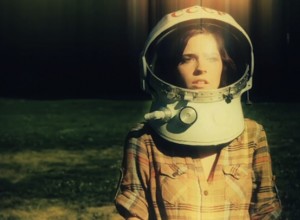 These are the 40 songs that mattered the most to me this year. For this list, I'm continuing my tradition of not really talking about the whole song, but instead focusing in and highlighting the single best moment.
As always, it's limited to one track per artist. This year that skews things quite a bit (for example, if not for this rule Dirty Diamonds might have landed all six tracks from their EP on this list), but that's what I've done for years and I'm not changing now.
40. Athena – Warm Waves
0:58 – Just a whisper in the wind. Probably the simplest song written all year, and one of the most beautiful.
39. Go Do – Jonsi
3:43 – Boy Lilikoi is actually my favorite track on the Jonsi record but it made my 2009 list so I figured I would include something else this time around. "Go Do" isn't quite as good, but it's pretty close. He sounds like some kind of mad Icelandic gnome. And I mean that as a serious compliment.
38. Baby Missiles – The War On Drugs
2:09 – This track is relentless and (pleasantly) monotonous, so it's really hard to identify any particular moment. But this raucous harmonica blast is a wonderful effect so it gets the nod.
37. And Now – jj
1:08 – There's the tiniest catch in her voice, and it absolutely slays me.
36. I Didn't See It Coming – Belle & Sebastian
2:14 – This song so easily could have been an all-time great. The first half is an absolutely perfect set up for a galloping rush in the second half. However, they don't actually commit the whole way so it ends up being just a bit of a damp squib. But that doesn't make this part any less genius.
35. Zorbing – Stornoway (youtube link)
1:45 – Folk-pop with a bit of a psychedelic tilt to it. It's the sort of track that makes you wish you there were more concerts held at Stonehenge. The best part is this sprightly horn interlude.
34. Wide-Eyed, Legless – Laura Veirs
1:03 – This song moves in delightfully obtuse angles and the lyrics are tantalizing in their staccato delivery. I have no idea what "lying on the star-crossed lover's map, take the beating lash, lash for lash" means, but it sounds gorgeous.
33. Laughing – Hooded Fang
3:22 – The whole song is great, but for some reason this little horn bit after the main theme is finished is the part that really gets to me the most. Such a beautiful way to close out a rousing song.
32. Neu Chicago – Clive Tanaka y su orquesta
3:20 – Incredible bliss, tinged with a sense of longing and distance. This is a dance track filtered through a dozen layers of haze and memory.
31. Lightsick – Zola Jesus
3:17 – "Since the invention of the kiss there have been five kisses that were rated the most passionate, the most pure. This one left them all behind."
30. Mélodrames Télégraphiés (in B major 7th) Part 1 – Brian McBride
4:16 – The way your heart catches at the sight of something too beautiful to believe, and the sadness that you feel knowing that that moment has passed forever.
29. Look Alive – Wait.Think.Fast.
1:22 – The whole song is basically an excuse to get you to this moment when the chorus kicks off. It's transparent and obvious, but so ridiculously well done that it doesn't matter in the slightest.
28. The Mission – Unexplainable Stories
2:15 – Upturned faces and shining eyes, all looking to see the endless dawn.
27. Tucson – The 1900s
1:26 – This might be the purest piece of wispy indie pop this year. Previous lists have been dominated by that sort of thing, but I guess there was just fewer sad kids with guitars this year.
26. Brighter Sky and Darker Weather – The Sinister Turns
4:14 – Every year has a "where we're going, we don't need roads" moment. This is the one for 2010.
25. Try Sleeping With A Broken Heart – Alicia Keys (youtube link)
1:46 – Hitting every cliché of a heartsick love song, but doing it so perfectly that there can't possibly be any complaining. Technically, this came out right at the end of 2009, but it was released as a single well into 2010, so I'm counting it.
24. Impression – Young Adults
1:16 – A beautifully prepared slice of post-punk noise, guitars that dance on the end of hooks like they're being battered, snarly vocals, and all of this drenched in a sort of washed-out almost shoegazy blend of reverb and carefully plucked notes. It's loud, enthusiastic, tightly-wound, and completely irresistible.
23. You Stopped Making Sense – The Radio Dept
1:00 – Achingly pure guitar notes rising up out of a sea of distortion. Just perfect.
22. Dancing On My Own – Robyn
3:07 – Such a simple and elegant song. The repeating chorus makes up the majority of the track, but it's given distinction by the surrounding bits. Here, immediately following the breakdown of the bridge, it is at its most affective.
21. Save You – S
1:12 – "And I thought you would be sorry, and I thought I'd feel the same" – Jenn Ghetto is in fine form on this song. The ringing guitar playing a perfect counterpoint to the failed redemption story.
20. Her Majesty's Midwestern Island – Defiance, Ohio
0:00 – I love a good rip-roaring start, and this one is about as fine as they come.
19. Not Sick – Tokyo Police Club
1:13 – I love the line here "not sensible, I wanna marry a dancer" but what really sells it for me is the way the guitars crash in a cascade immediately behind it.
18. Pivotal – Rai Knight
2:24 – It's slinky and cool, and lodges itself deep in your psyche. After a while you start to imagine that your heart has taken to beating in time with its rhythm. Just listen to how the song glides. It's like magic.
17. Stay Lucky – The Gaslight Anthem
1:10 – They're always at their best when they're channeling the Boss, and that's as true as ever on this song. Springsteen came out with his Darkness outtakes this year, but this song sounds like an even better fit than anything from the real historical record. Brian Fallon is really finding his vocal feet these days, and it's clear on this track.
16. Little Lion Man – Mumford & Sons
3:29 – Probably my single favorite moment of the year. There's the stunning wordless bridge. The pace quickens. You can sense the tension growing…and growing…and then they come back at you with the chorus one last time. And it all pretty much shatters. Again, another track that's technically from 2009 (at least over the pond it was), but whatever.
15. Fixed – Stars
1:30 – The keyboards twinkle and dance, the vocals are full of the sort of lilting swings and dances that make my heart feel all fluttery. The closest they've come to replicating the perfection of "Elevator Love Letter."
14. Faster – Janelle Monáe
0:16 – Oh my god that beat. It just takes hold of you and you never want to let it go. It was hard to pick from this song, "Cold War" and "Tightrope." All three are brilliant, but this one just hits me a little bit harder I guess.
13. Nothing Can Kill The Grimace – Mixtapes
1:34 – "So Fuck the world, now I feel a little better" – we've all been there.
12. Sprawl II (Mountains Beyond Mountains) – Arcade Fire
0:15 – For all the great moments in this song, this one somehow sticks with me the most. It's just the way that she whispers "just punch the clock" – it conveys more than any other moment on the record the real meaning of suburban existence.
11. Burden of Tomorrow – The Tallest Man on Earth
"I drink my water when it rains, and live by chance among the lightning strikes" – who else could write a line like that?
10. Living In Colour – Frightened Rabbit
2:40 – The fading of madness, the moment of rescue. When all the pain and fear finds an outlet, and for the first time in years, a smile.
9. A Remote View – Sambassadeur
1:40 – Gentle acoustic guitars plucked with care, and a sense of fragile possibility. It's the sound of falling in love, of knowing that you have to say goodbye, of the sense that you just might not be strong enough. The bookends on a 50 year relationship. It's the time right before: the aching that comes from wanting to touch something more, but never being sure that it will be safe. It's also the time after everything is over: when you look back and shed bittersweet tears.
8. Folk Bloodbath – Josh Ritter
4:00 – Josh Ritter writes some of the best lyrics going these days, and this song puts the very best on display.It  brings together a wide range of characters and premises from old folk songs – the joke being that the only thing that holds constant through them is that the main character always has to die. And in contrast to the modern impulse, he makes no effort to redeem those souls, to give their deaths meaning, or to give them a backstory. All you need to know is that the angels laid them away.
7. Bloodbuzz Ohio – The National
1:34 – "I still owe money to the money to the money I owe" – such a perfect distillation of the desperation and dark majesty of this song.
6. You Must Be Out Of Your Mind – The Magnetic Fields
1:28 – I was a little underwhelmed by the album, but this song is right up there with the very best of Stephin Merritt. "I no longer drink enough to think you're witty" is such a wonderful put down, and when it's combined with the double-tracked vocals, perfection.
5. Don't You Want To Share The Guilt – Kate Nash
2:47 – This song build and builds, from something tiny and pure all the way up to a mad rant. And each move along the path is perfectly executed. But for me, this is the best of them, the moment when she whispers "listen" and the notes that follow are so piercingly clear. It's when you begin to sense that something truly stunning is about to take place. And oh my does she deliver on that promise.
4. Runaway – Kanye West (link is for the epic video to the song)
4:19 – So many great moments in this song, but this verse is the best, I think. It captures everything wonderful and tragic and shockingly honest about the song. And by honest I don't meant that he's baring his soul and letting us see the 'real' Kanye.  That doesn't interest me in the slightest.  He's a tortured soul, a con, an egotistical maniac, or a genius.  Or none of the above.  Who cares?  What matters here is the SONG.  And as Tim O'Brien says: "it's the truth, even if it didn't happen."  That's never been more appropriate than right here.
3. Right Direction – Dirty Diamonds
0:34 – Best chorus of the year? I think so. I just adore this song.
2. C&F – Antarctica Takes It!
2:20 – In a song jam-packed with wonderful moments, this one is my favorite. It cuts through everything and you just hear the pure joy of making music.
1. Yulia – Wolf Parade
1:28 – "They flip one switch at mission control, and I'm never coming home."  The madness of the endless cosmos, the realization that you have already died but are left to drift alone in the dark reaches of spaces – and that there is only one person far behind who will think of you. All tinged with a sense of awe to simply be out there. What a horrible, wonderful, deeply sad way to die…