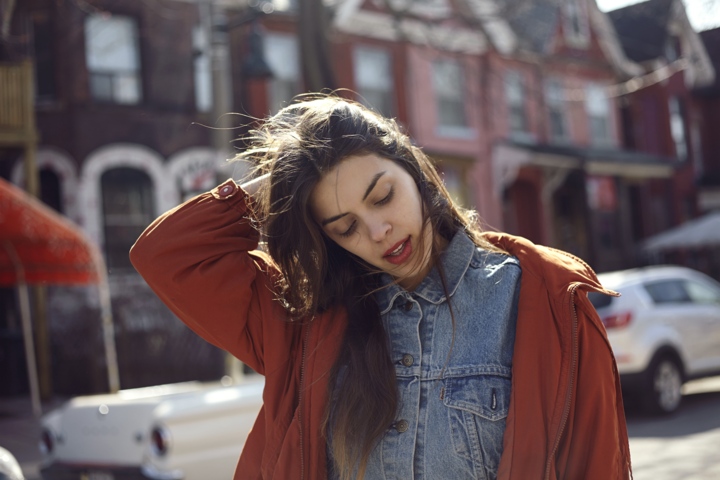 2017 has been a year of revolution in gender politics, and that has absolutely been reflected in the musical world as well. As with so many industries, there is a sense that the dam may be bursting: that sexual violence, exclusion, and discrimination will no longer be confined to whisper networks. And while there is still a lot to do, there's also a growing awareness that the future of popular music is feminine.
The trend has been developing for a while, but this year definitely felt like a tipping point to me. At this point, I think we can state definitively and unequivocally: the best music is being made by women, and it's not even really all that close. Of the 50 songs on this list, only 14 are from male artists. And it's not just me. Look at the consensus lists floating around out there and you'll find a vast army of female, queer, nonbinary, and nonwhite artists.
This explosion of incredible work is important not just for the bare fact of better representation (important as that is), but also for the way it brings new themes, new attitudes, and new perspectives into the fold. There is still a lot wrong with the way music works, but if you want to look for glimmers of hope, look to the level of poise, determination, talent, and perseverance of artists who have shattered the glass ceiling and taken over the music business from the bottom up.
My list this year wasn't consciously constructed with these developments in mind, but it certainly can't help but reflect them.
As always, these are just my favorites. I make no claim that they were objectively the best. One song per artist. Spotify playlist available here.
50. Addison – Trophy Dad
A song that feels like it came from a happier time, when intentions were pure and all things remained possible.
49. Bodak Yellow – Cardi B
The biggest rap song of the year, and for good reason. This is a killer track.
48. Another Sunny Day – Star Tropics
It's been a few years since we've had a top-notch album from Labrador records, but if you're in the mood for fuzzy indie pop, this is an excellent substitute.
47. Aura – Bicep
My favorite club track of the year. Great rhythmic spine that centers a gorgeous synth mélange.
46. Nightfall – Mimi Page
This is four of the last five end-of-the-year lists to feature Mimi Page. I just can't get enough of the way she textures musical components, drawing on the simplest of simple elements to produce something that sounds like it exists in some state beyond space and time.
45. Blue Field – The Luxembourg Signal
I would listen to Beth Arzy sing the phonebook.
44. Mercury – Sufjan Stevens, Bryce Dessner, Nico Muhly & James McAlister
We didn't get any home runs from Sufjan this year, but he sure hit a lot of singles. This one is probably my favorite, but there were six or seven other songs from various projects that might have made the list instead.
43. Michael Collins – Bedroom Eyes
It's been a long time, but it's great to have some Bedroom Eyes back on the list (last seen all the way back in 2006!).
42. Road Head – Japanese Breakfast
A woozy synth line, a fumbled kiss, an uncomfortable laugh, a quiet allure.
41. More Romantic – CLOSENESS
Residing in a warm space between the Phil Spector wall of sound and the synthy 80s pop production, this is one of those songs that just feels like you've known it your whole life, even on the first listen.
40. J Station – Adult Mom
That strange reminiscence for an old lover–someone who knows you better than almost anyone else in the world, but who has suddenly become a virtual stranger. The awkward fumblings.
39. Prom – SZA
Glossy and smooth and just indelibly cool.
38. For Light – Jay Som
The journey is seven full minutes, each step taken with a grim determination, ratcheting higher and higher. More tension, more emotion, more pain, more urgency, more desperation.
37. 7 Years – EMA
"For seven years I let this waste me / Seven years before I could face it / All that time of guilt and shame / I couldn't even say it's name"
36. On My Side – Gordi
I could have picked any one of five or six tracks from this record for the list, but ultimately went with On My Side because I just can't get enough of the way her voice bends around the notes on the verses.
35. Mesa – Cayetana
I'm a sucker for a bass-heavy punk record with a whole lot of bounce.
34. Now and Not Yet – Hammock
The feeling of standing in an old Italian church, where uncounted prayers have been murmured, with eyes locked on the heavens. All you can do is breathe in the sense of something so much larger than yourself.
33. Long Time – Blondie
Debbie Harry is a national treasure.
32. Promise the World – Son Volt
The cross-pollination between fiddle and pedal steel, reflecting off that beautiful, weathered voice. Yes, there's also a Tweedy song on this list, but if you force me to choose, I remain, as always, #TeamFarrar.
31. Deadly Valentine – Charlotte Gainsbourg
If you devoted a roomful of supercomputers to the project of constructing the most Charlotte Gainsbourg-esque song imaginable, they would spit this one out. It's slinky and clever and strange and beautiful-without-making-a-big-deal-about-it.
30. Reincarnation – Susanne Sundfor
I adore a weeping pedal steel, and this year featured a ton of wonderful examples of how to do it right, but none better than the coda to this song.
29. Old Timer – Willie Nelson
Please never leave us, Willie.
28. Symphony (feat. Zara Larsson) – Clean Bandit
Just a beautiful pop song. Nothing more, nothing less.
27. Eleven – football, etc.
This song glides like a motorboat over a choppy lake of churning guitars. And amidst all the tumult, you catch these reflections of shimmering light.
26. Latchkey Kid – John Moreland
John Moreland is at his best when it's just him and the guitar. The album as whole felt a bit awkwardly overproduced, but this song is pure gold.
25. First Light – Balmorhea
A song that sounds exactly like what it promises: those first rays of light in the morning, as they creep up over the horizon, casting long, deep shadows. Still cold, but with the promise of warmth to come.
24. Pink Rabbits – Vanessa Peters
One of my favorite artists covering one of my favorite songs. The clarity of the mix is key here. The original feels like a swirling haze. This feels like a balloon rising out from the cloud cover to discover the endless bright blue sky.
23. Sad Girls Club – Katie Ellen
To those who have been told to hide their pain and put on a happy face. To those who can no longer bear to maintain the illusion. To those who live, honest and true. To those who find joy even in the dark.
22. Via Chicago – Jeff Tweedy
This is now the definitive version of Via Chicago. Just soul-shredding.
21. Shoulders – Fazerdaze
The gentle curves of a rolling hillside. The soft caress of a summer breeze. The feeling of time stretching out endlessly before you.
20. Deaths Come in Threes – Tica Douglas
A jagged, beautiful song, which ruminates on loss. How we struggle to make meaning out of what we know is ultimately meaningless. How we can't help but search for beauty. How it isn't always enough.
19. Never, Just as You Wanted – Benoît Pioulard
"As winds come whispering lightly from the West / Kissing, not ruffling, the blue deep's serene."
18. SGL – Now, Now
Does the world really need another song about the heartbreaks of young love? When it's this good, yes, absolutely, it does.
17. Jenkintown-Wyncote – Harmony Woods
A beautiful story, told in 125 seconds. We suffer many small indignities, just to find someone who makes it all seem bearable.
16. Richard – Nadia Reid
At its core, this is a very simple song. Drums, a guitar, verses, choruses. And yet…it feels ethereal, spectral, savage. To listen is to set out on a journey that might prove your undoing. Which asks: what would you risk for the sake of love?
15. Song – Sylvan Esso
"I'm the song that you can't get out of your head" is both very meta and very true.
14. New Rules – Dua Lipa
Probably the most effervescent pop song of the year. The video is a lot of fun, too.
13. Carry Me Home – Michelle Branch
I am so happy to have a new Michelle Branch song on my best-of list. It's been a long time.
12. Hope the High Road – Jason Isbell and the 400 Unit
I think If We Were Vampires is probably the better song from this record, but Hope the High Road is the song I needed in 2017. There's so much to be sad about, but we can't let it overwhelm us.
11. Pretty Girl – Maggie Lindemann
This song is massively overproduced, aggressively trite, and I just do not care even a little bit. I love it so much.
10. Headache – Grouper
I've run out of superlatives for the work of Liz Harris. Every song from her is a gem. Weighed down by a life of pain and loss, but with eyes still locked on the stars above.
9. I Haven't Been Taking Care of Myself – Alex Lahey
Rock and roll is so good.
8. Thinking Of A Place – The War On Drugs
A languorous song that stretches out over eleven minutes, without ever overstaying its welcome. It took me a while to fully grow into appreciating its layers, but it feels richer, more complex, more essential, every time I hear it.
7. Hotel Amarillo – Caroline Spence
The loneliness of the road, brought to life through a series of perfectly evocative moments. The hotel clerk who gives you two keys for a room that you aren't sharing. The bottle of wine that you hope will sing you to sleep. The crushing weight of time and distance. The sense that your life is being wasted just trying desperately to get somewhere else.
6. Near To The Wild Heart Of Life – Japandroids
Nothing will ever hit as hard as they did on Celebration Rock, but this song gives it a hell of an effort.
5. Cairo, IL – Natalie Hemby
Remembrance untainted by the creep of nostalgia. Pure, sad, beautiful.
4. Green Light – Lorde
Musical genius is very much a young person's game. This song is a perfect illustration of why. Is it sophisticated? Not particularly. Is the message new or unique? Not at all. But it has a vivacious energy, a sense of belief that if you just reach higher, jump further, dive deeper, the truth is there to be grasped. That it comes in the context of an album that is full of archness and ironic distance only makes this song hit with that much more force. Behind every jaded cynic is a true believer afraid of being hurt. On this song, she shows what it looks like to take the risk.
3. Up to the Surface – Cloud Nothings
I know a lot of people were sad to hear them dial back the aggression on this record, but the slow burn of this song is just so good. The instrumental climax is probably my favorite minute of music this year.
2. Motion Sickness – Phoebe Bridgers
This song is so clever and bright that you almost miss how tightly constructed it is. Phoebe Bridgers has penned quite a few great songs in her young career already, but this is the best. "I have emotional motion sickness" is my favorite line of the year, and second place is not close.
1. Sleepwalker – Julie Byrne
A song so pure and true that it makes my heart burst. To listen is an act of devotion. Whatever darkness may come, there is still light. And, maybe, the hope of solace for those in pain.