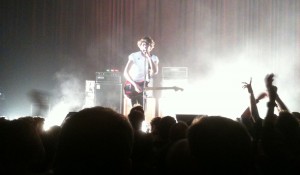 As always, it's limited to one song per artist (or else Japandroids would have placed  four songs in the top 10-15). And I'm continuing my tradition of not really talking about the whole song, but instead focusing in and highlighting the single best moment.
40. Wildest Moments – Jessie Ware
2:56 – Chilling and beautiful and sad and hopeful. She is really something special.
39. Heart Of The Continent – John K Samson
2:17 – John K Samson writes about Winnipeg in a way that makes it seem like every town in the whole world. This song is a companion to one of my favorite Weakerthans songs ("One Great City"), and lives up to its predecessor. There's something marvelously perfect about the references in this song to "the crumpled dark."
38. Bright Whites – Kishi Bashi
0:50 – There's a reason this song was ubiquitous in that commercial over the last few months. Because it's catchy as hell.
37. Video Games (youtube link) – Lana Del Rey
0:35 – Smoky, smooth, and dark gold. Like a good Scotch ought to be.
36. Near Light – Ólafur Arnalds
1:58 – Simplicity taken to the extreme. It is literally 5 or 6 keys, struck slowly and deliberately. But somehow, in the surrounding mix, it sounds like a revelation.
35. Varúð – Sigur Rós
4:55 – "We are, all of us, growing volcanoes that approach the hour of their eruption; but how near or distant that is, nobody knows — not even God."
34. You as You Were – Shearwater
1:24 – Running desperately, words almost tripping over the music, like…well…like an animal fleeing for its life.
33. We Are Young (feat. Janelle Monae) (youtube link) – Fun.
2:54 – This song probably has the biggest singalong chorus of the whole year, but it's actually the bridge that really sells it for me.
32. Sunshine in Chicago – Sun Kil Moon
1:50 – World-weary and beautiful. His voice crackles and bends, and he offers a wry grin.
31. The Only Place – Best Coast
1:11 – The Best Coast album was a bit of a let-down, but I adore this bit.  It just screams California, a nice mixture of early 60s surfing optimism with 21st century post-alternative self-satisfaction.
30. Waking Season – Caspian
4:21 – This song is incredibly simple and you just know it's going to catch fire at some point. When it finally arrives, though, it still comes as a shock.
29. Sad Eyes – Crystal Castles
1:57 – "Our destiny exercises its influence over us even when, as yet, we have not learned its nature: it is our future that lays down the law of our today."
28. La Mort Blanche (Robert Hampson Remix) – Mogwai
12:46 – "The longer Levin mowed, the oftener he felt the moments of unconsciousness in which it seemed that the scythe was mowing by itself, a body full of life and consciousness of its own, and as though by magic, without thinking of it, the work turned out regular and precise by itself. These were the most blissful moments."
27. The Sting – Vanessa Peters
2:24 – Quiet, beautiful, just a little bit ambiguous. It's like falling in love just a little more quickly than expected. The bit of tension there–-the recognition that you're opening yourself up to real pain-–is just part of what makes it special.
26. Kill for Love – Chromatics
0:16 – "We have already gone beyond whatever we have words for. In all talk there is a grain of contempt."
25. Same Love (feat. Mary Lambert) – Macklemore & Ryan Lewis
2:04 – It's not a great song in terms of the music (though Mary Lambert's bit is well sung), but the matter-of-fact tone of his delivery and the pathos of the message hit me pretty damn hard. This may be hip-hop for the sensitive indie-kid, but since that's pretty much what I am…
24. Strike Up Your Matches (feat. Matt Costa) – Love On A Real Train & Joachim Cooder
0:39 – Matt Costa's voice is just amazing here. Whatever effect that is, I want to hear more of it.
23. Christmas Unicorn – Sufjan Stevens
9:40 – Turning "Love Will Tear Us Apart" into a Christmas carol = genius.
22. I Love It – Icona Pop
0:45 – Frankly, if this song were only 50 seconds long, it would rank even higher on the list. The single verse is just so big and stupid and dirty and amazing that it doesn't need any more repetition. It's all right here.
21. I Belong In Your Arms – Chairlift
0:35 – A staircase of descending notes is the single quickest way to my heart. I just can't get enough of it. I think basically every one of these lists I've made over the years has included at least one track primarily based on this.
20. Werkin' Girls – Angel Haze
0:36 – She starts out impressively, but this is the precise moment that you realize something really special is happening.
19. Ho Hey – Lumineers
1:16 – I have to admit, I'm a sucker for this sort of stuff. Give me some mandolins and heartfelt folk stylings and I'll be a happy camper.
18. Ill Manors – Plan B
0:45 – Seething anger hasn't sounded this good in a very long time. It's the inchoate rage that precedes a precise listing of grievances or a platform for change. It could be misread as a simplistic critique of politics, but I think it's the opposite. It's a critique of the way that certain things are de-politicized, treated as outside the scope of reasonable debate.
17. State Hospital – Frightened Rabbit
2:59 – It's emotionally fraught, but doesn't pretend to the same kind of shattering intimacy from The Midnight Organ Fight. Which is an important thing for them. It speaks well of their ability to paint a picture of damage and loss, rather than rending open the wounds directly and letting the viscera pour out.
16. Losing You – Solange
2:53 – Her voice is just beautiful, and never more than here, with the production just starting to swirl back around her like the mists off a lake.
15. Inside/Outside – Tica Douglas
2:26 – Before you know it, everything has burst off into the distance. And all that's left behind are the remnants of fireworks in your eyes.
14. Breathing Underwater – Metric
0:58 – I'm tempted to be contrarian and pick another part, but c'mon, this song is all about the chorus. She hits the sweet spot and magic ensues.
13. Capricornia – Allo, Darlin'
1:07 – This song makes me desperately want to visit Australia.
12. Closer (youtube link) – Tegan and Sara
0:36 – When it comes to Tegan and Sara, one thing you can count on: a great transition into the chorus.
11. Frailty (For the Dearly Departed) – Hammock
2:04 – "He felt that love saved him from despair, and that this love, under the threat of despair, had become still stronger and purer. The one mystery of death, still unsolved, had scarcely passed before his eyes, when another mystery had arisen, as insoluble, calling to love and to life."
10. Genesis – Grimes
2:30 – I have no idea what on earth she is saying, and I don't want to know.
9. Danko/Manuel – Jason Isbell
6:41 – And the walls of Jericho came crashing down.
8. Little Talks – Of Monsters And Men
1:33 – The vocal interplay is what really makes this song work for me. There is just something creepy and weird and amazing in his voice when he says "your mind is playing tricks on you my dear."
7. The Hours – Beach House
1:29 – Remember what I said about the staircase of descending notes, and how it makes me knees weak? Yeah, so this song does that pretty well. I could listen to her sing "Don't care about me" for days.
6. Scavenger – School Of Seven Bells
3:04 – One of the musical moments of the year. Her voice bursts out, and the whole sky erupts into a cascade of metallic fire.
5. It's Not My Fault, I'm Happy – Passion Pit
2:03 – "It's the numbers, it's the numbers, we don't stand a chance" – when pitches seem to happen in slow motion and the baseball is the size of a grapefruit.  You turn and…unleash.
4. Howl – The Gaslight Anthem
1:27 – The pain is tangible, and the hope even more so. On an album that's devoted to the idea that the radio really might just save us, this is the shining moment where it feels absolutely and completely possible. So when he sings "I waited on your call and made my plans to share my name" there's nothing you can do but hope along with him.
3. Land Of Hope And Dreams (youtube link) – Bruce Springsteen
3:38 – One of my favorite Springsteen lines, followed by one of Clarence Clemons' final recorded sax solos. When I hear this, I have to admit, it fills me with hope and dreams.
2. Emmylou – First Aid Kit
0:56 – The chorus of this song is just out-of-this-world good. But it's all set up by those couple dipping notes on the guitar that immediately precede it. Sidenote: the bridge (at about 3:00) is one of the ten best musical moments of the year. And it's not even the best part of this song!
1. The House That Heaven Built – Japandroids
3:25 – This song is all about the pauses and spaces in between the noise. The drums fall out, you're poised on a knife's edge. And when the tornado strikes again, it feels like it might very well be Judgment Day.