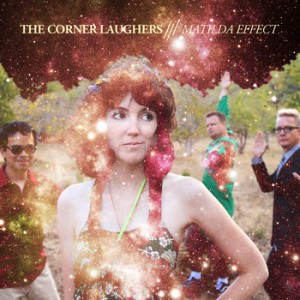 Fairytale Tourist - The Corner Laughers
One of my favorite records so far this year is the wonderful Matilda Effect by The Corner Laughers. It's got the strong melodic spine of northern soul, the effervescent delight of your favorite Sarah Records bands, and the joyful vibe of every great jangle-pop song you've ever heard. And, within this general recipe they manage to discover quite a few diverse sounds and tones. A twinkly beat here, with a rousing gallop to follow, and then a sweeping guitar solo, all topped off with endlessly clever lyrical turns. And the electric ukulele has never sounded so good!
I particularly love "Fairytale Tourist" – all strident pace and quintessential backbeat, surrounded by a perfectly realized harmonic jangle, and lyrics that cover the range from Hansel and Gretel to Cleopatra to snuggling up with your cats at night. And hey, why not some 'ba-ba-ba's to tie everything together?
Another highlight is "Queen of the Meadow" which opens by noting that "Henrietta Leavitt never got the credit for measuring the stars." Leavitt, for those who don't know, provided some of the key studies of variable stars that helped confirm the existence of other galaxies. And then there's the stately march of "Midsommar" which evokes the midsummer of Oberon and Titania, of rousing dances around a summer bonfire while gazing up at a sky full of stars.
But honestly, there's not a dud in the bunch. It's a mark of a great band that they can take a relatively simple formula and find consistently interesting and innovative ways to deliver the melodies. On that front, The Corner Laughers deliver in spades. If you like your music dark and lugubrious, this band won't be for you. But if you've got any sort of sweet tooth, you're in for a treat. Matilda Effect is out in June, and will be the perfect record to usher in the summer.