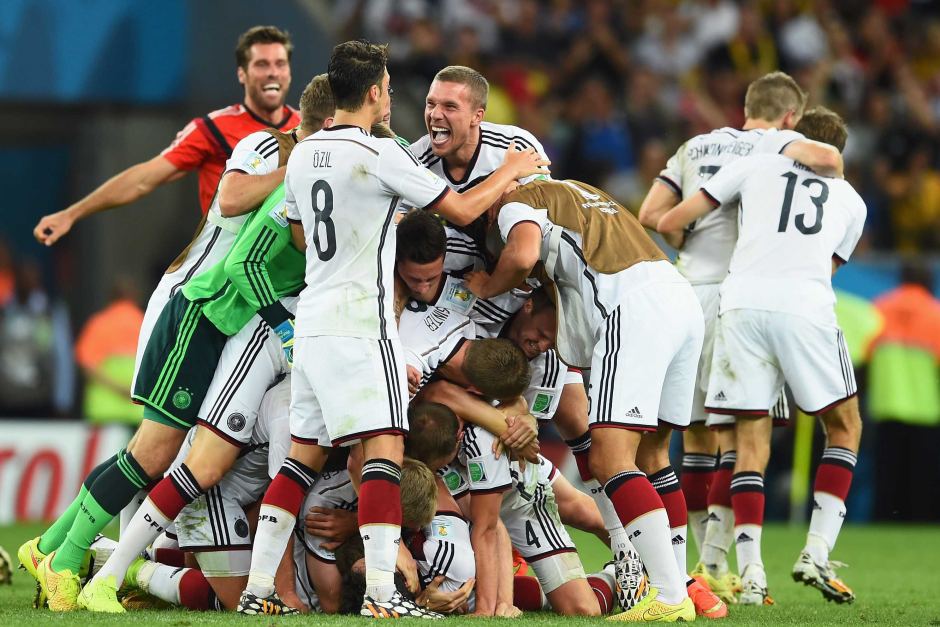 Impossible Germany - Wilco
Astute readers may have noticed that I never posted my commentary on the World Cup final. When I was informed of this (Hi, Hunter!), I was surprised since I remembered having written it up. But, it turns out, I only wrote about half of it up and then never posted it. So, here is a version with the gaps filled in. There might not be anyone out there who cares about reading a match report for a game that happened five months ago, but my completionism demands that I post it. So enjoy, or not!
BTW, I handed in my dissertation a couple days ago so finally have time again for…well…anything else. Which means I'll start posting here again. Look for end of the year lists coming up, along with some other stuff.
>>>
And the Germans are champions. While I was rooting for Argentina (and Messi in particular) to put on a show, it's hard to really argue with the end result. The Germans were the best team over the course of the tournament, and are well-deserved champions. And they fittingly won it on a very nice goal. It's not one of the goals of the tournament, quite, but was still a lovely bit of skill late in a tiring game.
As per usual, the match was tense, controlled, and not necessarily one of the more intrinsically exciting games. In that respect, it was very similar to the last several final matches. However, that doesn't mean it was boring. The first half, in particular, was extremely well played and featured some tremendous skill. It was notable just how different Argentina looked compared to their South American compatriots. Germany was given no space or time in the attacking third. While they were quite able to hold the ball at the periphery, there was a surprisingly lack of penetration. In a way, it sometimes seemed like everyone was expecting someone else to make the first incisive move. Özil and Müller, in particular, seemed to be waiting for a moment to pounce that never quite materialized.
One of the big conclusions people are drawing from this game is that Messi really missed his chance to show he's an all-time great. He certainly was not able to impose himself on the game in the manner of Maradona '86 or some of the other classic World Cup performances. But, as I have commented about all of their knockout matches, the truth in that claim needs to be balanced against some other very important factors. One is simply that the overall quality of play is SO much higher now than it was even a couple of decades ago. Messi's opponents know precisely what he can do and have organized their squads to limit the damage they will let him do. It's not a coincidence that Argentina's supposedly shaky defense turned in such an impressive record of limiting their opponents in this tournament. In sort of a strange way, the threat of Messi was Argentina's greatest defensive asset.
And then there's the rest of his supporting cast. The moment Di Maria left the tournament, Messi's influence declined precipitously. He was the only other consistent attacking threat over the course of the tournament, and was sorely missed. There was clearly something wrong with Aguero who looked nothing like his best self at any point in the tournament. And then there's Higuaín, who spurned a glorious chance about 20 minutes in that could have radically changed things.
In the first half, Argentina definitely looked the stronger team, though not by a huge amount. The passing from both sides was crisp and precise, and the tackling intense. And that held for about 60 or 70 minutes. But after that, legs started to drag, and Argentina increasingly seemed bereft of ideas apart from 'get the ball to Messi and hope for magic.' After that, the longer the game dragged on, the more a German victory felt inevitable.
It's a testament to this German team that they seemed utterly unfazed throughout the course of the tournament—with the very limited exception of (maybe) a brief spell in their match against Ghana. Here, they lost Khedira right before the match, but simply slotted in Kramer, who then ALSO had to be removed. And they just plugged right on.
And, when you get down to it, the balanced strength of the German team is what won them the Cup. Two of their substitutes combined for the winning goal. Their ability to move Lahm around the pitch gave them a lot of flexibility over the course of their matches. The quality of their players up the spine (the best keeper in the world, a rock solid central defense, and the mostly-excellent trio of Schweinsteiger, Khedira, and Kroos) kept them in control of every game. And the lack of a true striker never really harmed them.
On the other side, Argentina needed A+ performances from players who were capable but never quite felt certain to deliver. Mascherano was great once again, but the rest of the defense couldn't quite hold together with him. And, like I have said, they really needed someone else on the attack capable of drawing Messi into the game more. It was certainly POSSIBLE for him to find that moment of magic, and it wasn't a crazy strategy to just hope for it. But if the attack could have been better connected with the rest of the team, we might well have seen a different champion.
So, what do we take from this World Cup? It was a great tournament, for sure. Almost certainly the best I can remember, from top to bottom. We saw great players, great teams, some truly impressive dark horses, and deserved champions. And while the setting in Brazil had some issues in terms of social and political context, it's a million times better than what we're getting over the next few cycles.
Frankly, I have a hard time imagining how I can get excited for tournaments in Russia and (especially) Qatar. So I'm going to savor this one for a long time, as the memory of what a World Cup can be.
Looking back at my predictions, I got enough right to feel somewhat vindicated, and enough wrong to feel somewhat stupid. I had three of the four semifinalists. But also had Spain beating England in a quarterfinal. So there you go.