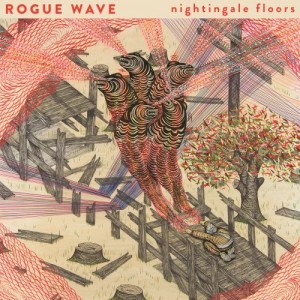 Without Pain - Rogue Wave
My favorite type of music is basically 'sad boys with guitars singing about their feelings.' Coincidentally, that's precisely the sort of music that Rogue Wave make.  And yet, I've never quite fallen for them.  I've liked each one of their albums, but haven't quite loved any of them.
That's the case once again, with last year's Nightingale Floors.  There's not quite enough here to really knock me on my heels.  But they're getting closer and closer.  It's full of beautiful songs, clever wordplay, and nicely compact little melodies. I can't quite recommend it unequivocally, but if you've liked any of their other work, you'll probably like this one a lot, too.
Without Pain has a jaunty tilt to it.  College is indie pop of the highest quality.  The Closer I Get has that wintry feel of the first Fleet Foxes album.  Siren's Song only really has one good hook spaced out over five minutes but it's such a glorious hook that it's more than enough.
I'm still waiting for the Rogue Wave album that combines all the bits I like and packs it all together a bit more tightly.  When and if it comes, it will be a truly fantastic record.  For now, I'm happy to listen to a bunch of very nice songs.