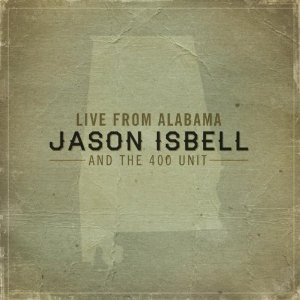 Danko/Manuel (live) - Jason Isbell
Every new thing I hear from Jason Isbell leaves me more and more impressed. His work with the Drive-By Truckers in the mid-2000s was fantastic—his membership with the band coincides perfectly with their best work. Since going solo, he has turned out a series of records that step far beyond the 'southern rock opera' ethos.
He tells stories about family, about the legacy of history, about lost loves and broken hearts, about drinking away the pain. And he tells stories about the people who live in the midst of all the madness. It's introspective and honest, a celebration of the South not in spite of its blemishes but because of them.
This all hit a crescendo last year with his wonderful record Here We Rest, which contained "Alabama Pines," my favorite song of 2011.
So I was pretty excited to find out that he was coming out with a live record this year. Now, live albums are always a bit of a risk. It's hard to capture the energy of a live performance, and you often end up just hearing slightly less polished versions of the same songs you already know.
Fortunately, that is not remotely a problem here. The best songs on Live from Alabama don't just expand on the studio versions; they completely redefine the songs. This is most prominent on some of Isbell's old Truckers songs, which are given new life and freedom to breathe, and simply explode out of the speakers.
"Decoration Day" was a wonderful story and a nice song. Now, it's a revelation. "Goddamn Lonely Love" has always displayed passion and pain, but those feelings are now visceral.
In its original form "Outfit" felt like a letter being put to song. Now, Isbell's voice is expansive, the accent is set free, and the guitar sings. You can feel the longing in the father's voice, the hope for his son, and the deep concern. It's a mixture of paternal love, of warning, of concern that his son will surpass him, and of soaring hope…that his son will surpass him.  And better than pretty much any song out there, it conveys what the South means to those who love it: a deep passion, tinged with a sense of humor about how badly they want to escape sometimes.
The best song on the album is "Danko/Manuel" – another Truckers-era song that has always been good but is now transcendent. I always felt like the aspirations of this song exceeded its capacity to tell the story. The homage to Danko and Manuel seemed a little bit untethered, the ghost of an idea rather than the manifestation. I see now that this was wrong. The lack of detail in the story is precisely the point. It's simply the architecture for the sound – for those ethereal horns, for Isbell's croon on the chorus, for the insistent drums. It's a song about what it means to sing and play – and the impossibility of making it about anything more specific is precisely the point.
A good live album should give you something new. By that standard Live from Alabama is a glorious success. In quite a few cases, these live performances have now become the definitive version for me. This is not just a record for an Isbell completist; it's a record for anyone who loves good music.