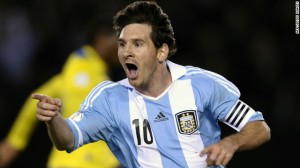 World Tour (Weezy, Wale, Dre) – Brenton Duvall
Argentina – Tokyo Police Club
We've waited 1,428 days since Andres Iniesta scored the winning goal for Spain.  And now there are just a couple more days left until Brazil takes the pitch against Croatia, and the World Cup bestows its wonderful presence on us for a month.
This post will cover my predictions for each group, and some rather pointless speculation about what might happen in the knockout stage if my guesses about the groups were to pan out.  I'll admit up front that I'm a little bit less plugged into things than I was four years ago, when I felt like I could speak pretty confidently about most of the teams in the competition.  This time around, there are a lot of young talents that I know of but don't really know much about, and I fully expect that some of them will be absolute revelations to me.  So take my opinions and predictions with the appropriately big grain of salt.
One big theme, I think, is going to be the overwhelming dominance of Europe and South America.  I'm predicting zero North American teams, zero African teams, and only one Asian team to get out of the group stage.  Most likely, another one or two will slip in.  But I really think that the top 10-12 teams in this tournament come from the two power continents.  And a lot of the African and North American teams, in particular, are a bit weaker than they were four years ago.  If I'm right, it could well be a bloodbath for those confederations.
Group A (Brazil, Croatia, Mexico, Cameroon)
Brazil is clearly the cream of the crop here.  But I have a hard time placing just how good this team really is. I suppose they are mild favorites, but there are a lot of questions about them. Neymar is good, but can he carry the team?  They've got great attacking fullbacks, but will they be exposed on defense?  I'm not fully convinced by Oscar and Hulk. Will they regret not really having a top-class center forward? But those are questions for the second round. They should win the group at a canter.  Second place is a toss-up. I think Croatia is the strongest of the three, certainly on the evidence of their recent results. Mexico was atrocious in qualifying and hasn't looked much better since.  But for all that, they've got a lot of talent so it wouldn't shock me to see them advance.
Group B (Spain, Netherlands, Chile, Australia)
Spain are the current holders of…basically everything worth winning in world football (World Cup, European champions, two Spanish teams were in the Champions League final, they won the Europa League, and so on).  Their cycle is starting to reach its conclusion, so I wouldn't quite call them favorites to repeat.  But it's also hard to argue against them. Their defense is a little shaky, particular against set pieces.  And their strikers all have question marks.  And Xavi doesn't quite have the legs anymore.  But there is just so much talent in this team that their second-string would still be one of the five or six best in the tournament.  A lot of people seem to be down on the Dutch, but I think they're pretty strong. Their defense is mostly drawn from the Eredivisie, which is a red flag. But they have some of the best attacking talent in the world and if they can gel could once again threaten to finally win a cup for themselves.  I suppose that means I'm tipping Chile to miss out here, which is a tough call.  They are an excellent team, and will be difficult to play. In almost any other group, they'd be likely to advance. Just not this one.
1st: Spain
2nd: Netherlands
Group C (Colombia, Greece, Ivory Coast, Japan)
Colombia is everyone's dark horse for this tournament, and I suppose they are for me, too. Even without Falcao. I could actually see any two teams advance here, but my gut tells me that Colombia is too solid to lose to any of these teams, which will get them first place.  I think Ivory Coast is just a couple years too late.  Apart from Yaya Toure, who is one of the very small number of players that could argue for being third best in the world (behind Ronaldo and Messi).  He can dominate a game like almost no one else, so it's hard to argue against them.  But most of the supplemental parts are much weaker than the past several iterations of this team. So I'm tempted to go with them, but am going to stick with Japan.  Now, I'm not nearly as high on them as I was 12-18 months ago.  Some of their key players had pretty down years (Keisuke Honda and Shinji Kagawa in particular).  But they strike me as the most fluid team in the group, and I make them slight favorites to take second place. Greece will be Greece and I will hate them.  And they certainly could lumber their way to a victory and a draw and a berth in the second round.  I certainly hope not, though.
Group D (Uruguay, Costa Rica, England, Italy)
I weirdly think this England team is sneakily good.  They've got a lot of in-form players, and the weight of expectations seems to be pretty low.  Their back line is solid (well, except for right back) and they've got a couple attackers who have hit their stride at exactly the right time (Sturridge, Sterling).  Honestly, if they just handed this team over to the Liverpool contingent, they could be quite good.  What will drag them down is lack of control in the midfield, and an over-reliance on Wayne Rooney—who is a world class player in some respects but doesn't fit into this particular team, and is unreliable even at his best.  I massively under-rated Uruguay four years ago, and I'm going to do it again this time around. If Suarez is fully fit and on his game, they could win the group. But if not, I don't see it. Apart from him, I think this team is much weaker than last time around.  Italy will be Italy, I suppose. Honestly, they don't seem too impressive for me.  Who is going to score goals for them? And their backline is as rickety as its been in many a year. Still, they're Italy. Costa Rica is not very good and will be lucky to get a single point.
Group E (Switzerland, Ecuador, France, Honduras)
Oh, France, will your good fortune never cease?  FIFA changed the rules of the draw right before it took place, and stuck Italy in the extra bin, rather than France who should have been there.  Which meant Italy got a MUCH tougher group. And here is France, who just have to beat a good-but-unexciting Switzerland, a team that dominates at home in the mountains but is not very impressive elsewhere (Ecuador), and another rotten team from CONCACAF (Honduras).  After 2010 and 2002, I will believe anything about France's potential to screw up, but I'll still pick them to win this group with ease.  And hopefully be proven wrong again.
Group F (Argentina, Bosnia and Herzegovina, Iran, Nigeria)
Nigeria and Iran might pick up a point from each other, but should be pretty well toasted by the other two in this group.  I'm picking Argentina to win the whole thing, partly because I think they are very very good.  And partly because they have the easiest route to the semifinals of anyone in the world.  Win this group, beat the second place team from the very weak Group E, and get a quarterfinal match against someone like Portugal or Belgium.  They've built this team around Messi, and I think he's going to finally win the World Cup that will cement his place among the all-time greats.  Along with him, there's Aguero (who is luminescent in his own right), Di Maria (who was the best player in the Champions League final a couple weeks ago), and Higuain.  This team is going to attack.  A lot.  Which means the other key player is Javier Mascherano, who is going to be responsible for shutting down the inevitable counterattacks.  Argentina should be fun to watch.
1st: Argentina
2nd: Bosnia-Herzegovina
Group G (Germany, Portugal, USA, Ghana)
And here are our boys.  I have to say: I'm not optimistic.  I certainly think this team has it in them to beat Ghana and nick a draw from Portugal and/or Germany.  But each of those results is at least a little optimistic.  I would not be at all shocked if we only get one point (or even zero) from this group.  The key player, by a mile, is Michael Bradley.  If we do well it's going to be because Bradley is able to exert himself on the game.  He has the vision that no one else has got.  We could also benefit enormously from the good version of Altidore (who was totally absent with Sunderland this year but has re-appeared in the last two warmup games).  But we're relying heavily on Kyle Beckerman to preserve our shape.  And, I mean, I like Beckerman.  But…against the German attack…I'm just not sure it's going to work.  Germany has lost Reus, which is a real blow for them, but as with Spain, they could run out their second line and still have a decent shot of winning this thing.  If they have a genuine weakness, I guess it's at left back?  And possibly their midfield (especially without Reus) might not be quite as strong as one might have expected.  Khedira is barely back from injury, Schweinsteiger doesn't look nearly as dominant as he did a few years ago, Ozil has blown hot and cold, etc.  But that's measured against a VERY high standard.  They might well have the best midfield in the world, even with those concerns.  Portugal is going to live or die based on Ronaldo, who is the best player in the world right now (and only partly because Messi has had a 'down' year).  The rest of their team is very good, but if Ronaldo dominates like he's capable of, Portugal could end up adding their name to short list of countries that have won a World Cup.  Ghana has knocked the US out of the last two tournaments and I'm terrified they're going to (effectively) do so again this time around.  I think this team is a fair step weaker than the 2010 version, but the US probably is, too.  That first game is going to be mighty tense.
1st: Germany
2nd: Portugal
Group H (Belgium, Algeria, Russia, South Korea)
Belgium are the hipster pick, and I'm going to go right along with it. Their golden generation has all hit stride at the same time, and might well be a hurricane through this tournament. They've got a great keeper, great central defenders, a great midfield, and talented strikers.  They don't really have any natural fullbacks, which could be their weak spot, but even that is compensated by their strength and canniness in the central midfield. This isn't a team that has to rely on width to pick apart a defense.  If Lukaku were to get injured, that could cause real problems for them, since Benteke is already out and they don't really have another option to play the lone striker role.  As for the other teams, Russia has not impressed me much when I've watched them, but I don't have much faith in South Korea or Algeria being able to knock them out.
Those results would set up these second round matches:
Brazil over the Netherlands – This is a really terrible draw for Brazil, to face the team who knocked them out last time this early. But I think they'll eke out a win here
Colombia over Italy – The Azzurri will be beaten at their own game in this one.
Spain over Croatia – It'll probably be a straightforward 1-0, with Spain controlling possession and doing just enough to get their needed goal
England over Japan – I think Hodgson is particularly well suited to shut down a team like Japan. A comfortable 2-0
France over Bosnia – Ugh. I'm still picking France.  I really like Bosnia a lot, just don't think they'll have quite enough. This could very easily go to penalties
Germany over Russia – An easy win for the Germans
Argentina over Ecuador – Argentina thumped Ecuador 4-0 in qualifying. Could easily see that again here
Portugal over Belgium – Another big match between two very good teams.  I make Portugal the slight favorites, but it really could go either way.
For the quarterfinals:
Brazil over Colombia
Spain over England
Germany over France
Argentina over Portugal
Yes, I'm just picking the consensus top-four teams to make the semifinals.  I wanted to go with someone else, but I just can't quite justify it.  I would say that eventual victor has an 80-85% chance of coming from these four.  Maybe a little more.  The only other teams I give a meaningful shot to are the Netherlands, Belgium, and Portugal.  Maybe France and Colombia.  Everyone else is in 'hey, Greece won the Euros so anything is possible, right?' territory.
For the semifinals, I have the South American countries beaten their European opposition, which sets up an Argentina-Brazil match for the ages in the final.  And I believe in the power of Messi, so I'm going to pick Argentina to hoist the cup.