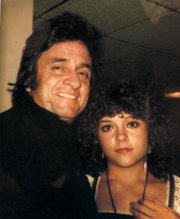 Many of my favorite songs of love and loss here. From the passions of youth to the quiet resignation of age, and everything in between.
Spotify playlist with (almost) every song from this project.
1-10, 11-20, 21-30, 31-40, 41-50, 51-60, 61-70, 71-80, 81-90, 91-100
40. Anthems for a Seventeen Year-Old Girl – Broken Social Scene (2002)
A beautiful song, with the sort of aural landscaping that makes people want to reference Pet Sounds. But there's something much else going on, too. That banjo, the strings, the deeply flanged vocals…and the way it creeps up on you until you realize you're completely encased in sound and totally weightless. "Park that car, drop that phone, sleep on the floor, dream about me." Yep.
39. September When It Comes (Feat. Johnny Cash) – Rosanne Cash (2003)
A beautiful, haunting song, sung as a duet with her dad; one of the very last recordings he ever made. A song about the anticipation of loss, sung with a man all too aware of his imminent mortality. When their voices join in the second half, the combination of the gravel and dust of his voice with the smooth sheen of hers is life-changing.
38. It's the Same Old Song – Four Tops (1965)
It's got that great driving Motown beat, some beautiful harmonies, and everything else you'd want from a 60s chart-topper, but there's something else, too, almost ephemeral. It's a sad song, but powerful, too. It is such a universal message, and performed so brilliantly that it's almost a mantra. It's my favorite song that ever came out of Motown. And the whole thing was written, performed, and pressed in just 24 hours!
37. Silent Treatment – The Joy Formidable (2013)
If you went into a laboratory to design a song for me, you could hardly do better than this. A gorgeous double-tracked voice, backed by a delicate acoustic pluck, rising up and then falling around a single note…that's what it takes to make my heart sing.
36. Tear-Stained Eye – Son Volt (1995)
Jay Farrar has written more than his share of beautiful songs. This is his absolute finest. The banjo solo, the pedal steel, the lyrics, his voice. It's a masterpiece.
35. No One Will Ever Love You – Magnetic Fields (1999)
Stephin Merritt has described this as an attempt to sum up in a single song the entire experience of listening to Fleetwood Mac's Tusk album. And you'd have to label it a smashing success. It's wistful, melancholic, dusky, smoky, and wholly captivating. Plus, "where is the madness that you promised me?" is an all-time great lyric.
34. I Am John – Loney, Dear (2007)
The whole song is a giant, escalating spiral as verses double back and trample on one another and the chorus jumps out whenever it has a chance until the end when the falsetto emerges and it is repeated as a final running-over-itself refrain. Remember that scene at the end of Back to the Future where Doc says "where we're going, we don't need roads"? He was talking about this song.
33. Are You Out There – Dar Williams (1997)
There have been many great songs written about the power of radio, but I think this is the best. The drums provide the momentum, but it's her voice that carries the show. When she sings about staying up to see the dawn, you can almost feel the light creeping up over the horizon. And her, crouched by the radio, listening as the songs come through, in all of their crackly beauty.
32. Emmylou – First Aid Kit (2012)
It's an ode to love, companionship, partnership, and a long history of music. Their voices dance around each other, the guitar sliding around them without the tiniest bit of friction. And it's all tied together by one of the greatest choruses in musical history—made all the better by those couple dipping notes on the guitar that immediately precede it.
31. Salome – Old 97's (1997)
Packed with emotion without being overwrought, it showcases Miller's wonderful voice, with just enough twang to keep you honest. Lovesick, heartfelt, and beautiful. It's perfect.