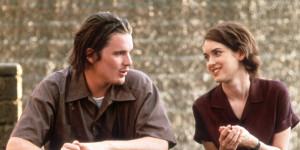 With this installment, we're living almost entirely in the bubble of late 90s/early 2000s white people rock. And the one major exception is a Velvet Underground track that in many ways could count as the first mover of the wave that would finally crest a few decades later. Basically, like I said at the start: I make no claim to objective valuation here. This is just the stuff I love.
Spotify playlist with (almost) every song from this project.
1-10, 11-20, 21-30, 31-40, 41-50, 51-60, 61-70, 71-80, 81-90, 91-100
80. Spectacular Views – Rilo Kiley (2002)
It's a huge, overwhelming song – an anthem built out of fireworks and smiles. It's the wide-eyed innocence of youth, the certainty that everything is still possible, and all you can say is "It's so fucking beautiful!" And in that moment, everything in the universe makes sense. That's just all there is to it.
79. Stephanie Says – The Velvet Underground (1968)
The simplest, most beautiful song from a band that radically redefined the genre of simple, beautiful songs.
78. Parking Lot – The Coathangers (2007)
Sleater-Kinney meets The Replacements. With one of the all-time great rock and roll screams.
77. Stay – Lisa Loeb (1994)
The first song to ever hit #1 before the artist had signed a record contract. It's a quintessential bite of the mid-90s, with a perfectly blended mix of earnest and world-weary that made it fit so perfectly into Reality Bites. Loeb sings with a breathlessness that makes each sentence bleed into the next, and conveys precisely how it feels when the world seems to be spinning out of control. It's also got a wonderful bit of self-referentiality in "I turned the radio on, I turned the radio up, and this woman was singing my song" – which is precisely what happened for all those who fell in love with this song once it hit the radio.
76. Three Rounds and a Sound – Blind Pilot (2008)
It takes a lot of guts to write a song whose mission statement is to become an 'our song.' But it works because they understand something that's so often missed in the endless parade of love songs that march across our speakers each year. And that is: the single most romantic thing anyone can ever say is "you know me." There's beauty in the world, laughter, support, care. But it all comes down to this. I know you, and you know me, and that's what it really means to be in love.
75. Graceless – The National (2013)
Berninger's distinctively smoky voice, the tightly wound guitar lines, and above all that insistent drumming. And when it all comes together, it is sheer perfection. The final minute or so is absolutely, relentlessly good.
74. Zolpidem – The Sinister Turns (2006)
Beautiful, funny, intelligent, and full of enough pop charm to make the even the hardest heart blush. It's irresistible in the way only the very best songs can manage – where you can hear two seconds and instantly need to listen to the whole thing.
73. Untrustable Part 2 (About Someone Else) – Built to Spill (1997)
One of several songs on this list with a wonderfully precise observation about the nature of God (in this case it's "God is whoever you're performing for," which is both brilliant and succinct). Built to Spill were at their best in the late 90s and this song is the peak—stately, sprawling, and stunning.
72. Fake Plastic Trees – Radiohead (1995)
Radiohead went on to make a number of incredibly important records, which played a significant role in shifting the trajectories of what rock music could mean going into the 21st century. And I'm glad for it all. But still…a part of me laments that they never dug down into this well again. It's not groundbreaking, by any stretch of the imagination. It's just a gorgeous melody, ringing with the perfect clarity of a brand new dawn.
71. Grace Cathedral Hill – Decemberists (2002)
It glows like the porchlight of a house in the woods in the deep mist of a cold evening. The Decemberists were always at their best making dreamy-chamber-pop, and never more than on this track. I still am blown away by the simple beauty of: "are you feeling better now?"